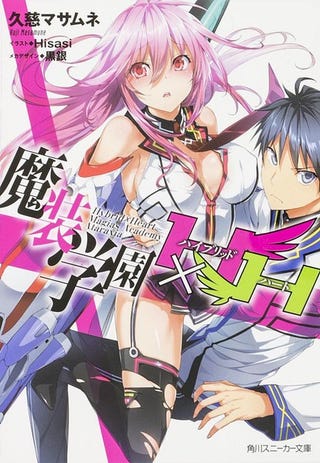 Groping Girls is Humanity´s Last Hope!...Wait, What?
Based on the Light Novel´s of the same name. The Offical website of this series has announced that an Anime has been greenlighted.
AnimeNewsNetwork describes the story as follows:
The story centers around Kizuna Hida, who visits the strategic defense academy Ataraxia at his big sister's request. "There, he encounters Aine Chidorigafuchi, a girl piloting the magical armor Zerosu. Aine suddenly pulls off her clothes before Kizuna's eyes. 'Don't look, you pervert—' 'No, you're the one!?' However, a communique about a serious mission arrives from Kizuna's sister. The mission — to rub Aina's chest!? Actually, Kizuna has the power to level up a girl through indecent acts. With a battle against another world, the future depends on this power."
The Light Novel is made by Masamune Huji, with pictures of Hisasi (Bikini warriors) and mecha designs by Kurogin (CROSS ANGE).
So Here comes a new Ecchi...