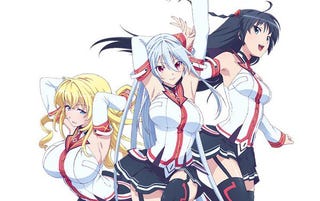 On the commercial for the upcoming Anime adaptaton of the Light novels, Hybrid×Heart Magias Academy Ataraxia, it has been revealed the date.
Hiroyuki Furukawa (My Wife is the Student Council President)is directing the series at Production IMS; Yasuto Yamada (Motto To Love-Ru) is handling the script; Kana Miyai (Castle town Dandelion) is in charge of the character design.
Anime News Networks describes the story as follows:
"The "ultimate battle action" story centers around Kizuna Hida, who visits the strategic defense academy Ataraxia at his big sister's request. "There, he encounters Aine Chidorigafuchi, a girl piloting the magical armor Zerosu. Aine suddenly pulls off her clothes before Kizuna's eyes. 'Don't look, you pervert—' 'No, you're the one!?' However, a communique about a serious mission arrives from Kizuna's sister. The mission — to rub Aina's chest!? Actually, Kizuna has the power to level up a girl through indecent acts. With a battle against another world, the future depends on this power."
In short the story is: "Let´s grope girls to save the world!"...Sounds good.
Via: Anime News Network