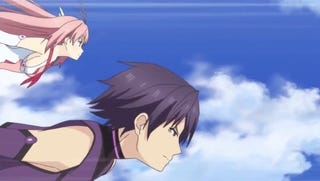 When this season started, I wasn't expecting much from Ao no Kanata no Four Rhythm (AoKana for the remainder of this post). Cute girls doing cute things flying around, possibly involving a harem with the boring main character per the usual. Rinse, lather and repeat. And through the first couple of episodes, my fears looked like they were coming true: the girls hit certain tropes, the main guy was a blank slate, there was some incredibly unnecessary fanservice.(Seriously girl! Close your freaking blinds!)

But as the season went on, what I feared was impending didn't come to pass. The main guy is barely more than a side character, while the girls take center stage. The cute girls are doing cute things admirably. And instead of a harem with the sport only tangentially involved developing, AoKana is actually something different. Cute girls? I'm in. Sports? I'm in. Cute girls AND sports? Sign me up. I've enjoyed stuff like Saki and Bamboo Blade, this should be right up my alley.
... And it should be. But as each episode has passed, I've found myself more and more frustrated. None of that has to do with the characters. Or the story. Or the animation for the most part. It has everything to do with Flying Circus, the sport being played here. I will not be spoiling any outcomes of any matches or any story elements, and focusing on the mechanics of the sport itself.
---
In Flying Circus, there are two ways you can score points. Participants race to tag numbered buoys, with each buoy tagged scoring 1 point. Note you can't skip and tag any buoy, you must go in order. Alternatively, if you can tag your opponents back, you can also gain a point. Those who specialize in the first tactic are called Speeders, while those who use the second tactic are called Fighters. And oh by the way, they're flying through the air!
Here's my first issue: this game feels to me so heavily favored to Speeders, that it seems preposterous to even try and be a Fighter. All you have to do is dodge the Fighter and beat them to each buoy. Sooner or later, you can rack up so many points that it doesn't even matter if the Fighter can catch up to you. And indeed, every battle, the Speeder races out in front and tags the first buoy and the Fighter has to take a shortcut somewhere between the first and second buoy and stop the Speeder.

The result of these strategies then often boils down to the Fighter getting to a set point and the Speeder having to take evasive action. Like this, for example:

These strategies do vary with each individual battle, as different competitors use different tactics to evade and pursue each other. From what I can tell though, a good Speeder will beat a good Fighter any day of the week, just because they can rack up points by evading. But you know what? As simple as this is, it isn't even my main complaint with the sport.
Flying Circus is always played above the ocean in a square ring. And not only that, it's always a horizontal plane. Why? Why limit yourself like this? Your characters are flying through the air, we can do anything! There's only so much our characters can do with just this basic and rigid structure of a horizontal square plane. And in the same first episode in which the main heroine and we the audience learn about the sport, the opposing challenger actually states that she will limit the amount of buoys this time for our heroine. So the number isn't fixed at all!
Limiting a Flying Circus match to the same square every time is so boring, when you have your characters flying around in the sky! Make them go through cool awesome shapes! They're flying, make them go up, down, around, near and far for these buoys! Make the strategy so much more interesting than just the Speeder speeds and Fighter intercepts every time.
I'd be remiss if I didn't suggest other options rather than just complain, so let's go through the easy ones first. If we're limited to 4 buoys on a horizontal plane, how about a rhombus? A parallelogram? A trapezoid? Would a kite be too difficult to throw in every once in a while? We could even keep the square and make them have to criss-cross along the diagonals in an hourglass shape instead of just going around the square. All of these could change how the game is played, if by only a tiny amount, and introduce something novel to each match.
What if we can change the plane from a purely horizontal one to a diagonal one? Let's get gravity involved in these tactics! They already use gravity in a bunch of their special moves like the "Low Yo-Yo". If we change the angle of the plane, surely we could make each match more interesting!
Shall we get really crazy? Why not change it from a plane, and make it 3D! Let's make the plane twist around, keep one side horizontal, and the other on a vertical plane! Can I interest you in a tetrahedron perhaps? The possibilities are endless, and we haven't even increased the number of buoys yet! Hexagons, Cuboids, even abstract shapes if you were feeling frisky. But no, it's always this same horizontal square plane.
For that matter, why is it always over the sea? I mean, I understand it's so much easier for animators to just keep the background a blank slate of blue with the odd cloud thrown in. But, this also hurts the sport and makes it so visually unappealing after the 2nd, 5th, 10th match that's always played the same and also looks the same too. Can we throw some obstacles into these matches please? Look at this valley/cliff combination they soar through during one of their practices:
Let's get this valley involved somehow and change the matches up a little. There's got to be better ways we can put in obstacles where Fighters can ambush Speeders. Get some buildings like the high school or the island itself to be a part of the match like this: Make them go around this peninsula for the different buoys.
What if we can loop around this island, or have them fly through and around buildings! I'm already so much more excited by all this.
But alas, none of my ideas will come to life. Flying Circus games will remain squares on a horizontal plane over the sea, where it's easy to just animate blue backgrounds and call it a day. Where the strategy will remain the same, with small little tricks differentiating each match only slightly. Instead of my ideas with different locales changing the matches up, we get this:
And this:
And this:
Nice wide open spaces. Not a single obstacle in sight. Just some nice varying shades of blue here and there. And every. Match. Is. Like. This. Speeders race out in front, Fighter gets to the same point in the square. Over and over and over again. Strategy never changes, only the execution does. What if other racing-ish anime were like this? What if Prince of Stride raced the same obstacle course over and over again? Or if Initial D drove down the same race course every single time? Would Yowamushi Pedal be anywhere near as engaging if there were no Climbers and Sprinters segments, and the same course was repeated for each day of the Inter High? Sure, different people might win or lose each time based on different circumstances, but is that really fun to watch?
I'm so sorry AoKana. I shouldn't be this harsh on you. Your characters are cute and fun, and each episode is easy to watch. We're not going to go down the harem route I was afraid of. Cute girls and sports should hit me in the perfect niche. But your sport has bored me so much halfway through the season that it's negatively impacting my own view of the show.
Before I go, yes I know AoKana is based off a VN so these issues may be with the game itself. Yet a studio has and will forever make changes to the source material when they see fit. And this was one of those times I wished that they did. I'll continue to watch AoKana because its characters are fun, but frankly I'd rather them play almost anything else. Even Lacrosse.