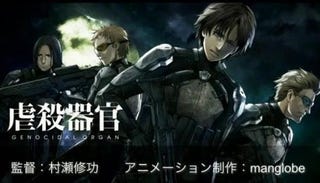 Based on the novel of the same name.
The official website for the film Genocidal organ has uploaded the first teaser of the film :
Based on the Novel made by Project Itoh, Viz Media describes the story as follows:
"The war on terror exploded, literally, the day Sarajevo was destroyed by a homemade nuclear device. The leading democracies have transformed into total surveillance states, and the developing world has drowned under a wave of genocides. The mysterious American John Paul seems to be behind the collapse of the world system, and it's up to intelligence agent Clavis Shepherd to track John Paul across the wreckage of civilizations and to find the true heart of darkness—a genocidal organ."
The anime will go to the theathers in Japan this Winter.
Via: Anime News Network