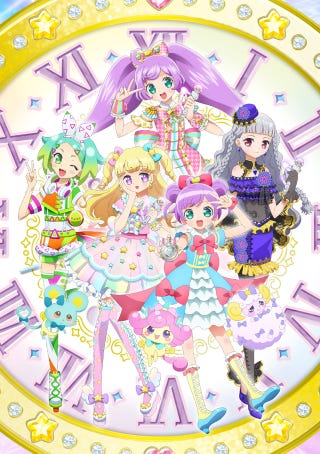 It will premier this April.
The official website for the anime of PriPara has uploaded a new visual and details of the story, whicha re as follows:
"The story focuses on Yui, a girl who lives in the town of Paparajuku, and who dreams of being an idol, even if she realizes that being an idol is next to impossible for her. Her friends often remark on how much she dreams about it. But then, the PriPara idol theme park opens in her town, and that an idol named Laala is coming to town from Parajuku, which only makes Yui dream even bigger. The new PriPara theme park has been updated with new concepts. However, due to a system error, Laala is no longer able to PriPara Change.

The series has the keyword of "yume kawa," short for "yume kawaii" (dreamy cute), a contemporary real-life fashion look that emphasizes colorful hair and dreamy looks. The protagonist Yui is described as a "yume kawa" girl. An additional keyword for the series will be "time," as the series introduces the new "Idol Time" system."
Makoto Moriwaki (Tanteo Opera Milky Holmes) is directing the anime at Studio Tatsunoko and Dongwoo A&E.
Via: Anime News Network