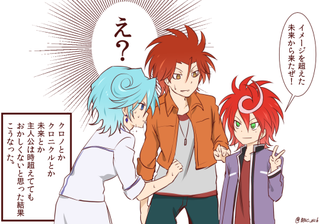 The Original Series fighters comes back!!
While i was about to watch a Vídeo on Youtube about the cancelled game "Icarus" made by the now deceased Factor 5. On those obnoxious promos on Youtube i came across the promotional for the new Season of Cardfight!! Vanguard G (Youtube truly know my tastes now, huh?).
So is searched for it and here it is!
The Script it says as follows:
<<Vanguard G finally to the Climax!>>
<< Each time more exciting. The Gias Crisis Saga has been produced!!>>
<< The Search for G has started!>>
<<¡ And the mission will be to reunite the 6 clan leaders!>>
<< Starting by Megalanica>>
One can see Jaime Alcaraz and the original series veteran (And Season 2 villain) Shoryu Leon.
<< And the Legendary Fighters will appear!!>>
One can see Naoki Ishida from season 3 (red headed guy)
Taishi Miwa from Season 1 (Blonde Guy)

Kouji Ibuki from the Movie and G (White hair guy)
Ren Suzugamori from Season 1 -Villain- (Red Headed Guy)
Kai Toshiki from season 1 -Rival,Villain then protagonist- (Brown hair)
<<This Fall the team Try3 will have a new challenge!>>
<<And will have a future beyond their imagination!>>
Then it cuts and we see Kouji Ibuki on his desk.
-Even with Kanzaki´s Plan...- Ibuki said -that one did nothing to the matter.
- Even his whereabouts are unknown- Ibuki continued -As i feared...we need a bigger plan.
Ibuki writes on his Lap Top "Plan-G"
So Hype!!
Also if Suiko appears too (i hope so) they need to make the combination that Chrono is basically the fusion of Suiko and Naoki!