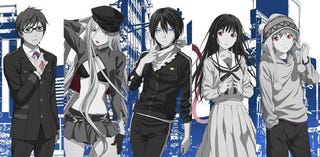 The Opening for this second season will be made by The Oral Cigarettes.
The Official website for The Noragami´s Anime has revealed the new promo. Let´s check it out.
The series will come in October and will feature the famous Bishamon Arc.
Funimationd escribes the story as follows:
Yato may just be a minor god now, but he's determined to make it big and he's got a plan. Unfortunately, things just don't seem to be going his way. He doesn't have a single shrine dedicated to him, his partner has just quit, and now he's got to find a new divine weapon. Just when things look bleak, he meets a girl named Hiyori and changes her life forever.