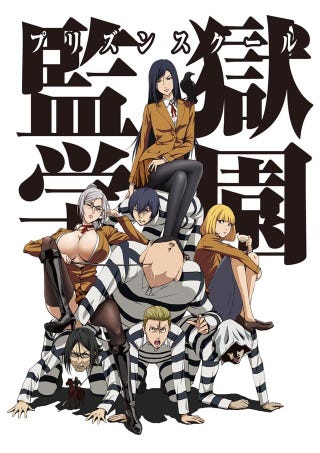 Based on the Manga of the same name.
A New Trailer for the Anime based on the Femdom Manga, Prison School, has been revealed.
Yen Press is publishing the manga in the west and describes the story as follows:
Hachimitsu Private Academy was a revered and elite all-girls' boarding school on the outskirts of Tokyo...once upon a time. But with the new school year comes a revision to school policy: Boys are to be admitted into the student body for the first time ever. But on his first day at Hachimitsu, Kiyoshi Fujino discovers that he's one of only five boys enrolled at the school. Their numbers overwhelmed by the thousand girls in the student body, is it heaven or hell that awaits these five (un)fortunates?!
In The Staff there are: Tustomi Mizushima (Shirobako) is helming the project; Michiko Yokote (Shirobako) is making the scripts; Junishiru Taniguchi (Puella Magi Madoka Magica Films) is in charge of the Character design.

The Opening theme is called "Aoi Prison", while the ending is called "Tsumibukaki Oretachi no Sanka". Both songs are singed by the 5 male characters (The Prison Boys)