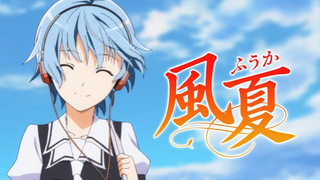 The voice actors of the prequel Suzuka will come back for their role!
Fuuka´s anime offical website has uploaded it´s first ad and where it reveals that the Jauary 6 is the premier date.
At the same time it has been revealed that Kanako Mitsuhashi and Daisuke Nakamura will retake their roles as Suzuka and Yamato from the prequel anime "Suzuka".
Keizou Kusakawa (KanColle) is directing the anime at Studio Diomedea (Squid Girl) Aoi Akashiro (Endride) is in charge of series composition.
My ANime list describes the story as follows:
"Yuu Haruna just moved into town and loves to be on twitter. Out on his way to buy dinner he bumps into a mysterious girl, Fuuka Akitsuki, who breaks his phone thinking he was trying to take a picture of her panties. How will his new life change now?"
Via: Anime News Network