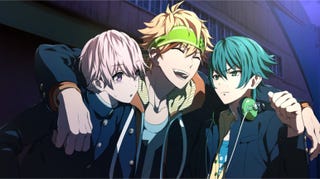 Based on the PSVita Game.
The Official website for the anime adaptation of the dating sim Game "Kenka Banchou Otome: Girl Beats Boys" has uploaded it´s first video. The anime will premier this Spring.
The voice actors will retake their roles as their characters in the PSVita game.
Noriaki Saito (Log Horizon) is directing the anime at Studios Project N0.9 and A-Real; Natsuko Takahashi (My Love Story!!) is in charge of series composition.
My ANime list describes the story as follows:
"For as long as she's been aware, the heroine, without a single relative, lived under care of the state. Both of her parents' faces were unknown to her. In front of this heroine, a young boy appeared. The young boy's name was "Hikaru." It appeared that he was the heroine's twin brother, separated at birth. He had a proposal for the heroine.

"Could you go to school in my place?"

The heroine was shocked by this crazy suggestion. Furthermore this was an all-boys school. The only high school in this prefecture for delinquents. Hikaru was part of the most ancient and honorable family in the criminal underworld, the Onigashima family. Under his father's strict teachings, the school that he was to attend had been decided. And that school was Shishiku Academy. A high school where all the terrible and wild delinquents were gathered. Enrolled in this school, a child of the Onigashima family was obligated to occupy and control this school. Hikaru did not want to have anything to do with delinquents. But to defy his father meant death. Hikaru, who learnt about his twin sister who was separated from him at birth, was struck with the idea to send her in his place to this school of delinquents."
Via: Anime News Network