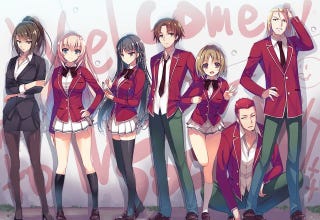 It will premier this summer
Kadokawa has uploaded the first promo of the anime adaptation of the light novels.
The promo features mostly art from the already mentioned light novels.
Seiji Kishi (Assassination Classroom) and Hiroyuki Hashimoto (Magical Girl Raising Project) are directing the anime at Studio Lerche; Aoi Akashiro (Fuuka) is handling the series com´position.
Anime News Network describes the storya s follows:
"The light novel's story takes place at Kōdo Ikusei Senior High School, a leading prestigious school with state-of-the-art facilities where nearly 100% of students go on to university or find employment. The students there have the freedom to wear any hairstyle and bring any personal effects they desire. Kōdo Ikusei is a paradise-like school, but the truth is that only the most superior of students receive favorable treatment.

The protagonist Kiyotaka Ayanokōji is a student of D-class, which is where the school dumps its "inferior" students in order to ridicule them. For a certain reason, Kiyotaka was careless on his entrance examination, and was put in D-class. After meeting Suzune Horikita and Kikyō Kushida, two other students in his class, Kiyotaka's situation begins to change."
Via: Anime News Network