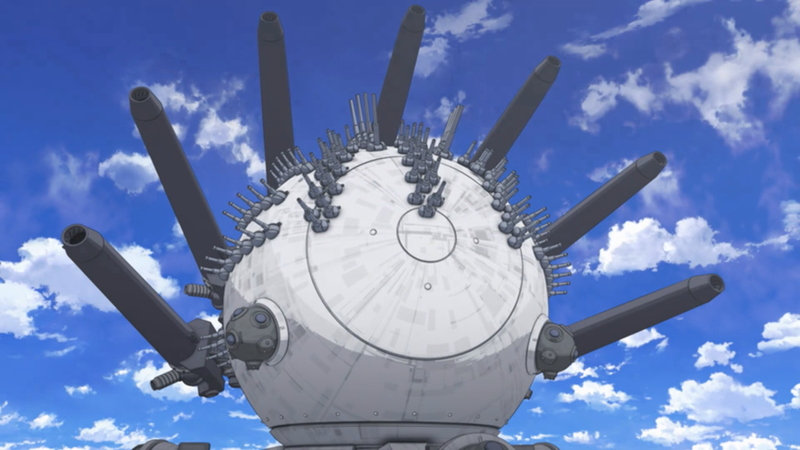 Heavy Object is my Hype Show of the season. I have literally been waiting years for this. Coming from the same author as A Certain Magical Index and A Certain Scientific Railgun, Heavy Object is an entirely separate setting (though it has appeared in RailDex as a movie franchise) featuring reasonably hard science fiction elements and a higher level of silly humour than people might be expecting.

Thing is, for a while now I've been getting frustrated with lackluster episodic reviews of shows due to mistaken assumptions about what's being seen or even just simple hype backlash. Whilst the requirement that any adaptation stand on its own merits is fundamental, I've been curious if a greater level of familiarity with any source or supplemental material could allow for a higher quality of review, even if only for better knowledge of what a show should be doing. To that end, I've chosen to experiment: taking it upon myself to do episodic reviews of a setting I am pretty familiar with to see if it does actually make a difference.
So, to the show. We open with a narrated sequence which paraphrases the Fallout games, showing that the world has advanced to a point where the planet is covered with cities, space travel is as casual as air travel is today and the rich vacation on the Moon. And yet, conflict still occurs. A naval flotilla is seen bombarding onshore installations before a carrier launches aircraft to follow up, only for them to be obliterated by a barrage of energy cannon fire. We then get our first look at the central element of the show: an Object. The Object.
A giant black sphere, bristling with weapons. Constructed by "A Certain Island Nation" with innovative design methodology (which the show covers with the language and visuals of a technical manual), this behemoth is stated to have endured the firepower of an allied force of fourteen nations, responding with withering capability in return. Eventually, nuclear weapons were deployed in an effort to stop it, inflicting severe damage yet leaving it with enough functionality to complete the destruction of the opposing units. You can begin to see why so many nations might team up to try and destroy the damn thing. (Note: Whilst the term "Object" might seem uninspired, it's actually sourced from the designation used by Soviet experimental armour projects and remains in use for such by the Russians to this day).
Such is the history of the setting. Objects became synonymous with war; nothing else could face one except another. (I have to wonder if Kazuma Kamachi has ever read any of Keith Laumer's Bolos...) The collapse of the United Nations is shown to have led to a general breakdown of national identity across the world, with four primary power blocs arising in their place based around ideology and unbound by geographical location. Naturally, this provides ample opportunity for conflict, but as only an Object can fight another Object conflict only really happens when two Objects meet. Even if you were to use conventional forces to grab territory, as soon as an Object showed up it'd all be for naught. And so we get our first mention of a term which will come to be central to the entire premise: that of "Clean Wars" fought by single Objects and their lone pilots rather than thousands of men and machines. And the show moves us to the present with the question "So, then, what about everybody else?"
Turns out, the suggested answer is that they don't have much to do. Our two idiots heroes are introduced shovelling snow off a runway, which they explicitly say is just makework. It's stated that the only ones who really matter are the Objects and their Elite pilots, which the two discuss as we are given a gratuitous lingering scene of their unit's pilot (female) taking a shower, making it approximately six minutes until the first disappointment of the series occurs. Taking a break to eat and provide more exposition for the viewer, the two idiots protagonists continue to chat about the fact that even soldiers don't have to fear seeing combat in this new age, and we discover that Heivia (poorly translated as Havia) is a noble, serving in the military as a RADAR analyst to gain merit before he can inherit the family estate, and Quenser (poorly translated as Qwenthur. Really) is a civilian commoner with aspirations to become an Object designer, in order to become rich as fast as possible, and has come to the battlefield to study them firsthand. Not the most inspirational of motives in either case, heh.
Driven by the inevitable reality of military rations, the two decide to tool up and go hunting for fresh provisions; Heivia ending up being taunted by a moose while Quenser tries his hand at ice fishing, leading to our first meeting with yon Object pilot: Milinda, nicknamed "Princess". This allows for yet more exposition, covering the nature of Object designs and the advantages of specialisation over generalisation within a specific scenario. Milinda worries that her General Specification 1st Generation Object will not be able to win against the enemy's 2nd Generation, designed for the environment they're fighting in, and questions Quenser about why he came to study her Object given that its design philosophy is becoming obsolete (to which the answer is the sensible "The basics are useful anywhere, whereas specialist knowledge is only good for specialist applications").
Milinda comes across as your standard "emotionless girl" archetype who fails at being emotionless, I've heard criticism of her because of this already. Such is not entirely unfair, but there is more to the nature of pilots and the relationship they have to their Object than the episode showed; the same scene in the LN provided much more detail which I'm expecting the next couple of episodes will cover (or else it will be a massive failing of the anime), yet even should that occur there will remain a disconnect between our first introduction to her and the morose figure she seems, and the reasons for her demeanor.
We also get to see Quenser drop into a mental spiel of nervous technobabble when he starts to think Milinda is cute, which is pretty character-defining. The guy really is a nerd, never forget it.
Subsequent to this, we then have our final primary cast member introduction: the Unit Commander, Froleytia (translated as Frolaytia. To be honest, I'll let them have that one).
Yes, they said that out loud. Yes, they are that stupid.
Froleytia establishes herself as a competent Commander, remotely directing a minor operation in the Pacific from the Alaskan base we're located at even as she chews out our two heroes idiots with terrifying casualness and snark. After inviting herself to partake of the success of Heivia's deer hunt, she then sends Quenser off to the maintenance hangar and condemns Heivia to finish the clearing of the runway the two abandoned earlier.
The scenes of the hangar do a fantastic job of establishing the sheer size of the Object: Massive. Meeting up with the old lady in charge of the engineering crew, she and Quenser then move over to where Milinda rises out of the Object in her control station and Quenser is assigned to work on the ejection system. A job everyone else avoids as it's considered bad luck. As they chat about trivia regarding Milinda's Object, named the Baby Magnum, Quenser manages to break something in the cockpit restraint mechanism, causing the harness to begin to constrict Milinda and prevent her from breathing. As the old lady runs off to find something to cut the restraints she tells Quenser to pull against the belts across Milinda's chest so that she doesn't suffocate in the meantime. Quenser proceeds to be an absolute asshole, arguing with himself about the necessity of touching her breasts in order to pull against the harness even as she is literally dying, a fate only averted by her activation of the ejection system. Notably the first time she's ever had to use it. (I should note that in the LNs Quenser is a little more proactive, still noting the harness making her breasts very prominent and having the mental debate about groping her, but moving purposefully to help her only to stop because of her squeak of apprehension at the lewd expression inadvertently crossing his face, whereupon she triggers the eject. So he's still an ass, but not to such a degree that he gets distracted from the danger she's in because boobs).
Yon twat, now sporting a mark on his face from retribution meted out by the maintenance head, joins Heivia and Froleytia at the promised barbeque for the last infodump of the episode, bringing us back to the question asked earlier: If the Objects are so central to battle, what about everyone else? As it turns out, current practise is for the side whose Object is defeated to immediately surrender and vacate the territory. Chasing down powerless soldiers is deemed too tedious to be worth the effort, though it's still just an unwritten rule of warfare not enshrined by any treaty. "Clean wars" where only the Object pilots risk their lives and no-one else has to worry; a state of affairs that benefits (almost) everyone, so why go against it? (For some background information, the comparison of combat to non-combat forces in militaries is known as the Tooth-to-Tail Ratio. Such a balance is important; more "teeth" increases the number of fighting personnel, but decreases the individual efficiency of each. As an example, it can be estimated at around 3:1 for American forces in WW1 compared to 1:3 in Vietnam. By comparison, Milinda is the sole combat soldier in Froleytia's unit, stated in the LNs to number at 800 men. No pressure Princess).
Except, as the last scene of the episode shows, Humans are Bastards. We see the culmination of a battle that will likely play out in full in episode two: the Baby Magnum being destroyed as Heivia and Quenser look on in horror, burned corpses littering the snow as the enemy Object turns to face them. We then have the closing play of what I assume will be the series's first OP: a rapid sequence of scenes which look to be from the upcoming battles our two heroes idiots will find themselves in, seemingly the other two chapters of the first volume of the LNs. Whilst the transitioning between the battle environments; snow to desert to ocean, is skillful, the pace of the imagery verged on being confusing even for someone who could recognise what they were seeing. And the song is not the most catchy any OP has ever used, frankly.
Ultimately, I'm reasonably impressed with episode one. The setting has a very high barrier of exposition to get through and the episode succeeded pretty well at covering most of what needs to be established before the story can start to embed itself (though given that the ultimate defeat of each Object is typically possible due to analysis of its engineering and design, a certain level of infodumping is likely to persist). I had considered making a pre-series primer of sorts before starting these reviews, covering basic background information that certainly the anime itself would need to include, but that would be required as soon as possible for a viewer to avoid confusion. I was happy to see it would have turned out to be unnecessary. As is proving to be normal with simulcasts, the English can be of variable quality, especially with names (It's supposed to be the Legitimacy Kingdom, as in the Legitimacy of Nobility to Rule) but it's seeming that the biggest issue facing the series will be the misconception of what it is about. The animation quality remains as high and consistent as J.C. Staff are known for throughout, fortunately.
Heavy Object is not a serious war drama, though it has its moments of such. It is not a mecha show, though the titular Objects feature heavily. Generally, Heavy Object is best described as a Buddy Comedy, following two dumbasses as they encounter insane situations which they continue to survive through bitter snarking and Refuge In Audacity. At a deeper level, it's a darkly-satirical take on the politicalisation of conflict and propaganda. The setting is not a nice place, it is a truly fucked-up world covered by lies which increasingly unravel as Quenser and Heivia violate the established military wisdom of "Only an Object can destroy another Object." (Right up there with "The bomber will always get through" and "No invading army will pass through the Ardennes Forest"). The refusal of the cast to be serious ultimately becomes very fitting, as the situations they face are just so appalling that taking them seriously would quickly destroy a person's sanity. It's a delicate balance to hit though, and we'll have to see if the anime is successful. Certainly I hope for no further pointless shower scenes or the like. Constant snarking about boobs is one thing, rampant male gaze is another.
So far, Heavy Object is certainly not doing everything perfectly, but it's yet to disappoint me (with a specific exception). For an initial episode facing the information density the setting has, it did an admirable job of providing a foundation to move forward with, but I think it will be a few more episodes before we can tell if it's going to come into its own or if it will fail to build itself appropriately. (Hopefully my coverage of those episodes will not be quite so fucking wordy...)
I would currently rate it at "Continental Siege Unit" on the Bolo Scale.
---
Heavy Object can be viewed on Funimation.