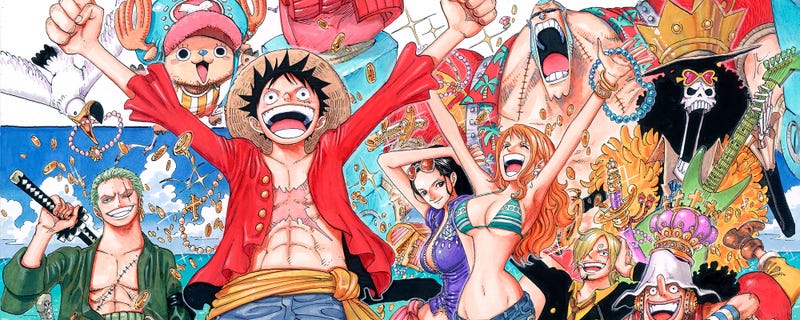 Well it's June 1st and do you know what that means? Manga sales numbers! Every six months we get a little glimpse into the Japanese manga industry with the most popular sales numbers being released and every six months I break em down for you guys. It's kind of a tradition as I'm weird and I find it oddly fascenating.
Lets get it out of the way once more One Piece dominates the charts as it does every time. Honestly Oda will win everytime if he wishes too, I don't think anything can stop the juggernaut that is One Piece. One Piece is so dominant the manga will soon overtake Spider-Man, Batman, and even big Supes himself in sales and those series has been going on for a lot longer. Japan's manga industry is One Pieces the rest are just existing in it.
Perennial runner up Attack on Titan has taken the second spot in the rankings once more. However since its storm to the second place spot a few years ago with its anime adaption its only once threatened One Pieces dominance. While Season Two likely hasn't factored in as much I have a hard time believing despite its increased quality it'll capture the lightning in a bottle its first season had.
Kingdom! The manga the longest without an anime adaption rounds out the top three. It is very interesting to be honest that the series hasn't found second life on television screens with its continued strength on the manga charts, perhaps something behind the scenes is holding it up.
Longtime performers Haiyuku!! and Tokyo Ghoul: Re slide into the top five with around two million volumes sold, while a million behind the top three these are still strong sellers to be sure. Perhaps if the long awaited Tokyo Ghoul season two (A proper one) were to be released it could surpass its rivals in Haiyuku!! and Kingdom.
The sixth through eigths spots are a who's who of awesome Shonen manga with My Hero Academia, One Punch Man, and The Seven Deadly Sins making also showings. My Hero Academia even coming in a virtual tie with Tokyo Ghoul:Re at around two million sold. I wouldn't be surprised if in six months we see it overtake the venerable monthly. Shonen manga is alive and well and with each series basically guaranteed more anime there is a strong possibility they'll move up the rankings too.
Outside the Top Ten some old work horses continue to put up numbers just not quite what they used too. Blue Exorcist likely charged by a successful anime adaptation almost broke the Top Ten while Magi comes right behind it. Fairy Tail as it enters its final stretch while no longer scaling the heights of the Top Five as it once did is avoiding the sub-20 rankings that plagued other long running shonen series as they ended such as Bleach. I'm hoping it'll get one final adaptation to round out the story, filler free this time.
Before I leave I'd like to give a shout out to CLAMP series Cardcaptor Sakura: Clear Card breaking into the Top 20 at 17. Despite not being in the genre that normally gets a lot of attention it is clearly CLAMPs most successful series in years. It appears the Japanese audience still has some love for one of the original magical girls.
As for the Light Novels... it's basically all the usual suspects with SAO obviously leading the way. See you in six months, I got money that One Piece will be on top if anyone wants to take that bet.