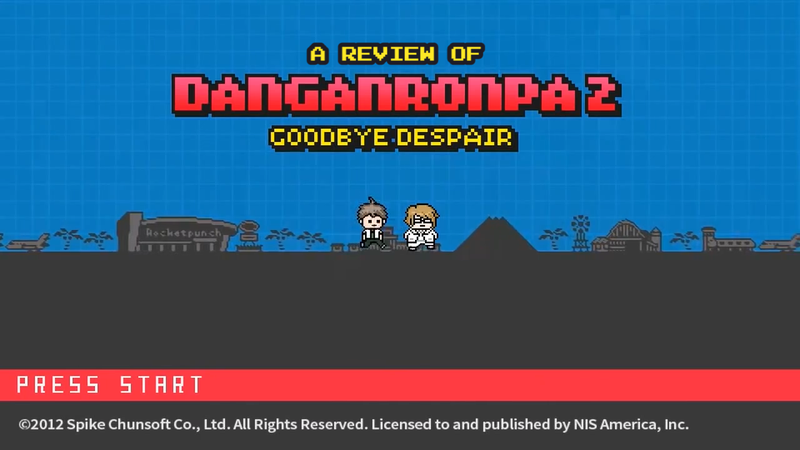 Reviewing the last game gave me the inspiration to finally play the sequel, and boy am I glad I did.

As always, the review is provided in video format and transcribed directly below.
---
You are Hajime Hinata, a high schooler eager to attend the renowned Hope's Peak Academy, where only the most exceptionally talented individuals are accepted, literal "Ultimates". On your first day, you pass out and come to on a deserted tropical island, trapped there with fifteen other Hope's Peak students. Almost immediately, you are graced by the presence of Usami, a plush rabbit-mascot overseer who preaches the value of love and hope, encouraging the kids to form bonds and get to know one another. Although suspicious, they have no choice but to go along with Usami's wishes, and the days slowly pass without incident.
Of course, it isn't long before the peace is irrevocably shattered by the sudden appearance of Monokuma, the last game's devious villain. Monokuma declares that their peaceful island life is no more, and further announces that the only way to leave the island is killing another student… without getting caught. If a murder occurs, a class trial will ensue, a form of debate where evidence is presented and the survivors argue their way towards revealing the killer. After such a trial, the prime suspect will be decided via majority vote. If the class guesses correctly, the murderer will be executed. If they're wrong, the murderer goes free, and everyone else is executed. All this is a roundabout way of saying that the premise is almost identical to the original Danganronpa, with the exception of a new cast of characters and a new island setting. Let the killing game begin!

Same Old Strengths
There were several aspects of Trigger Happy Havoc that combined to create a fun game, not the least of which being the class trials. Naturally, the trials return in force for Goodbye Despair. The setup is the same as ever: a mysterious (or even seemingly impossible) murder has been committed, and only you can bring the villain to justice. The trials maintain a conflicting atmosphere of suffocating despair and boundless hope, forcing you to distrust everyone but simultaneously believe in your classmates (though only if the evidence backs them up).
The twists and turns each case takes are more than comparable to Danganronpa 1, some even surpassing the heights of the original. Truly, nothing is ever as it seems, no matter how obvious an initial conclusion may appear. Of course, the infamous executions also return in their classically bloody fashion (though, frankly, some deaths were disappointingly tame).
Improved and Added Minigames
Once again, trial conversations are interspersed with various minigames that all ultimately serve to prove your point. Last time, I griped about the tedious qualities of most of these minigames. For Danganronpa 2, every returning minigame was redesigned in some way. Nonstop Debates now offer the chance to support (as well as contradict) someone else's argument, and the rhythm-based Bullet Time Battles (now renamed Panic Talk Action) underwent a general overhaul to make them slightly more challenging. (A completely redesigned Hangman's Gambit appears too, but it's still as boring as ever).
On top of that, a few new minigames have been added. Rebuttal Showdowns fill a similar role to Panic Talk Actions, in that they are one-on-one debates against someone who refuses to listen to reason. These Showdowns revolve around Truth Blades rather than the titular Truth Bullets, allowing the opportunity to literally cut your opponent's argument to pieces. The second new minigame, Logic Dive, is the most game-like of them all and my personal favorite. Actually, it reminds me of internet Flash games I used to play as a kid. You surf down a mental highway, dodging obstacles and leaping chasms while answering questions about the case, eventually leading to some kind of epiphany. Danganronpa 2 won't win awards for the innovation of its gameplay, but it's undeniably a marked improvement from the last game.
A New Cast
Like the original game, Danganronpa 2 has its own memorable cast of weirdos. With the exception of one curiously plump individual, every character in this sequel is a new face, with a new Ultimate ability to match. The cast is large, comprised of sixteen people (including the player), so which ones you develop an affinity for will probably be dependent on two factors: (1) how long they are alive, as the early casualties are unavoidably flatter personalities than the endgame survivors and (2) personal preference, since everyone has very exaggerated character traits that'll create a different appeal depending on your tastes. (By the end, almost all my favorites were dead...)
The voice actors for this eccentric cast range from competent to good. The main character has been usurped from Bryce Papenbrook and passed to Johnny Yong Bosch, which I'm perfectly happy with because Bosch is much better at handling dramatic lines. That's not to say Bryce was completely shunted out of the game, as he instead fills the role of a non-player student. I audibly groaned upon realizing this, but (to my complete surprise) I actually enjoyed Papenbrook's performance. His character's voice is a tad deeper, so it sounds less whiny, and the character himself is more, er, let's call it "fun", which suits Bryce's skillset rather nicely.
If you're familiar with anime dubs, chances are you'll recognize some other voices too, like Wendee Lee and Kyle Hebert. Additionally, while I haven't actually listened to the game's Japanese audio, a cursory glance over its cast list implies similarly high quality, boasting the likes of Kana Hanazawa and Jun Fukuyama.
As a final note, Monokuma continues to be a constant source of black comedy. I've gone into at length about him elsewhere (namely, my review of Danganronpa 1), so I won't bother to repeat myself, but Monokuma is still great.
Answering Questions
When I first read the premise of Danganronpa 2, I worried that the game was a standalone experience, a reimagining of the original concept rather than a true sequel. Luckily, that is anything but the case. For a while, the plot seems self-contained, but small hints of a larger narrative start to drop, and then larger ones, until it reaches a point where the game can no longer stand wholly on its own.
If you recall, my main complaints with the first Danganronpa stemmed from the questions it left unanswered. I even faulted the game for being a somewhat incomplete story, partially because I was uncertain that those loose ends would ever actually be tied up. I was wrong. It is no exaggeration to say that Danganronpa 2 answers every single one of those questions, and in a way that leaves me completely satisfied to boot. The two main entries of the Danganronpa series combine to form a compelling duology (and one day trilogy, I suppose, considering Danganronpa 3 has already been announced). Really, neither game is intended to provide the full scope of the story on its own.
The Last (Two) Cases
"Stunning" is the only way I can describe the finale of Danganronpa 2. The last two cases are stellar in so many ways, both in terms of their isolated, case-centric twists and big-picture plot revelations. With just a few small bits of information, everything completely falls into place, all your lingering doubts extinguished. Obviously, this is difficult, nigh impossible, to properly explain while maintaining a spoiler-free environment, so I'll have to leave it at that. Take my word for it, the final hours of Danganronpa 2 are an ending you will not want to miss.
Same Old Problems
Unfortunately, Goodbye Despair does not fully free itself from the issues that held Trigger Happy Havoc back. You can still find yourself shaking your head at the characters, taking their time to stumble towards a conclusion that seems far too obvious. Certain minigames, despite heavy redesigns, still feel stale or tedious. On top of that, the pink blood still pops up after every murder. (I know, last time, some people were quick to point out that the blood color is an artistic design decision, not actual "censorship", to which I say "uh... ok?". Just because something was purposefully designed a specific way doesn't mean I have to say "oh, well, if it was intentional, then it's wrong to dislike it." No, that's absurd.) Though, my feelings on the lack of actual challenge were sufficiently dealt with by cranking up the difficulty to its highest level.
These are all pieces I elaborated on in my review of the first game, so go check it out if you want more details. I won't be repeating myself here, sorry.
Running Out of Ideas
Spike Chunsoft had to scrounge up sixteen whole new characters with sixteen whole new Ultimate talents to populate Danganronpa 2, and to me they were a little more hit or miss than the first game. You have some decent or respectable talents like the Ultimate Photographer, the Ultimate Swordswoman, the Ultimate Cook, the Ultimate Gamer, but the occupations quickly veer into stranger and more obscure territory, like the Ultimate Breeder or the Ultimate Team Manager. I mean, the Ultimate Traditional Dancer? Really?
And then, I'd argue that a select few aren't even actual talents. What does it mean to be the Ultimate Yakuza or the Ultimate Princess? That bottom-of-the-barrel character design extends to the actual attire of these students, several of whom look cluttered, for lack of a better word, as if the developers tried too hard to ensure a degree of visual distinction. It makes me mildly worried for the state of Danganronpa 3, since chances are it'll include even more off-the-wall designs.
That Other Minigame
Goodbye Despair also has this optional, not-so-great minigame about Usami. I don't have much to say about her minigame other than that it wasn't very fun. Gameplay consists of running around and defeating these blobbish enemies by either circling them or jumping on their heads, which culminates in a boss fight after a few stages. As for me, I beat the first boss and never came back. There's no one particular reason for this, the entire minigame just feels rather clunky and uninspired (which reminds me of Ultra Despair Girls, actually). I was having far less fun with it than the classic murders and trials, and thus saw no compelling reason to keep playing.
The Script
As much as I enjoyed the overall plotline itself, Danganronpa 2's script can leave you wanting. The original always had themes of hope versus despair, but the sequel is much more upfront about it. One character in particular goes on lengthy diatribes about hope and despair if given the slightest opportunity. It comes off hamfisted, as if the writers couldn't adequately display these themes naturally and instead decided to trumpet the value of hope against the shadow of despair whenever possible. Beyond that, while Danganronpa 2 is generally well-paced, at times it slows to a crawl or spends so much time reiterating the same piece of information that it loses its impact.
The "Hope" Conundrum
As I just mentioned, the Danganronpa series revolves around the conflict between hope and despair. It's a theme I have no problems with, but it can lead to problems. I think the best way to explain this is with a comparison to, at first glance, a very different series: Gurren Lagann. While Danganronpa is a smart, visual novel-style puzzle game, Gurren Lagann is a mecha action anime. Nonetheless, Lagann touts a message remarkably similar to Danganronpa's, that human belief and willpower can overpower any obstacle. In service to this theme, the main characters win most every battle simply by being passionate and shouting loudly enough. The mere belief that they will win overrides any circumstance that says otherwise, the result being that our heroes always ultimately triumph. (As it would happen, although I love Gurren Lagann, that's one of my main complaints with it.)
So how does this apply to Danganronpa 2? Well, much like Gurren Lagann, the heroes prevail not through wit or ability, but simply through hope, by being obstinately stubborn in the face of overwhelming odds. This is unlike Danganronpa 1, which (while sharing themes of hope versus despair) didn't grant its characters a free pass due to mere belief. They still had to take proactive action to attain victory, not simply winning because they were confident in themselves. This really only applies to one specific instance in Danganronpa 2, but it's a pretty damn important one, and I couldn't help feeling that it was an asspull constructed simply for the sake of reaching the intended conclusion.
If you weren't a fan of the first, Danganronpa 2 won't sell you on the series. On the other hand, if you had any fun at all playing Trigger Happy Havoc, I would highly recommend Goodbye Despair. The characters are as wacky and memorable as you've come to expect, the minigames are better designed (if still grating at times), the major loose ends are all tied up, and, perhaps most importantly of all, the murder mysteries are as stellar and convoluted as ever.
Last time, I struggled with my rating. No such conflict exists today. After taking everything into account (as well as my own subjective enjoyment), on a scale from F to S, Danganronpa 2: Goodbye Despair easily reaches the A rating.
To put it succinctly, I really loved Danganronpa 2. While watching the credits roll, I even thought to myself that it could be deserving of the S. Ultimately, upon retrospection, there were just enough mistakes and small missteps to hold it back from that, but it was an excellent experience regardless. If you can, get on this game soon. It's awesome.
---
If you want more Danganronpa, check out my review of the first game or the TAY review of Ultra Despair Girls.
---
You're reading Ani-TAY, the anime-focused portion of Kotaku's community-run blog, Talk Amongst Yourselves. Ani-TAY is a non-professional blog whose writers love everything anime related. Click here to check us out.