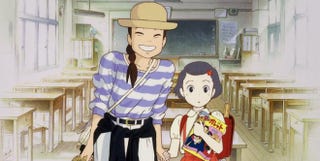 Only Yesterday (Omohide Poro Poro; literally meaning "memories come tumbling down"), is a film about a big city "office lady" who returns to the countryside. The film debuted in Japan in 1991, and is the only Ghibli film not to have a home video release in North America. That is, until now.

North American film distributor GKids announced that there would be a theatrical release for the film in 2016. The film will be shown in North American theaters, but no more details have been revealed.

If you were wondering, yes, the film will get an English dub. The cast includes Daisy Ridley, Dev Pate, Ashley Eckstein, and Alison Fernandez.
In addition to the theatrical rights, GKids has also licensed the non-theatrical, home video, and television rights for the film. The theatrical release will also correspond with the film's 25th anniversary.