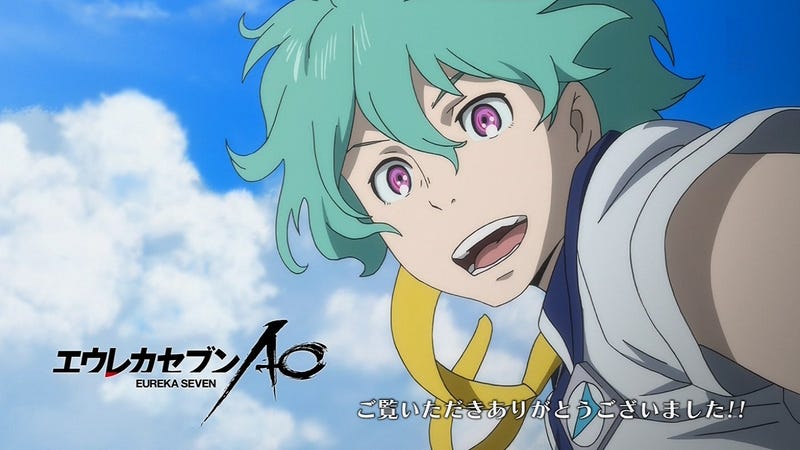 In promotion of the new Pachinko Game.
The Pachinko game company Sammy is making a new game based on the Eureka Seven Franchise, and in celebration for that it has begun streaming a new "final chapter" of the 2012´s anime "Eureka Seven AO" which has the name of "Final Episode: One More Time -lord don't slow me down-"

The chapter has been segmented in "A-Part", B-Part" and so on. The "D-Part" will be streamed in February 7 having in the in between the B and C parts.
Funimation streamed the Original Eureka Seven AO anime and it describes the story as follows:
"The story is set on Okinawa's isolated island of Iwado, which has seen a growing movement advocating a return to an autonomous government. Ao Fukai, a 12-year-old boy with a missing father, lives on the island with an old doctor named Toshio and is about to enter middle school. Ao's mother was taken away a decade ago by unknown individuals. Naru Arata, Ao's 12-year-old childhood friend and the story's heroine, lives with her father, older sister, and grandmother. She has a "Yuta" power awakened within her due to an incident when she was young. A mysterious entity called "Secret" suddenly appears and launches an attack on the Scub Coral lifeform on the island. Ao launches a certain military FP called "Nirvash" aboard a Japanese military transport in his fervent desire to protect the island. "
Via: Anime News Network