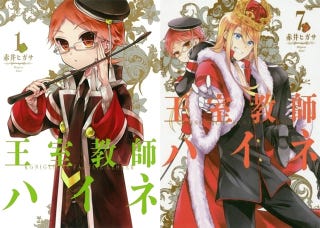 It will premier this Spring.
The official website for the anime adaptation of the Royal Tutor´s Manga has uploaded it´s first teaser trailer. Enjoy:
Katsuya Kikuchi (Idol Memories) is directing the anime at Studio Bridge (Fairy Tail) ; Kimiko Uedo (Kuromajyo-san ga Touru!!) is in charge of the series composition.
Yen-Press is publishing the manga in english, and it describes the story as follows:
"Accepting the post of Royal Tutor at the court of the king of Grannzreich, Heine Wittgenstein is a little professor with a big job ahead! Each of the kingdom's four princes has a rather distinct personality. Does their diminutive new instructor have what it takes to lay down some learning? It's a comedy of educational proportions!"
Via: Anime News Network