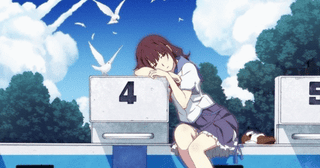 Based on the 90´s Live-Action Drama.
The Official website for the anime movie of "Fireworks , Should We See It from the Side or from Below?" has uploaded the first trailer of such movie.
The Drama Tv story, Crunchyroll describes it as follows:
"The story of the drama version was set in one day during the summer vacation and focused on two elementary school boys, Norimichi and Yusuke. The two are best friends and both are falling in love with their classmate girl, Nazuna. But because of her parents' divorce, she will have to be transferred

to other school before the second semester begins, and the two boys doesn't know about it yet. Nazuna,

who does not get along with her parents, secretly decides to run away with one of the two who wins in a swimming race."
The movie will have an adapted to this time´s setting compared to the 1993 one.
Nobuyuki Takeuchi (Bakemonogatari) is directing the film at studio SHAFT.
Via: Crunchyroll