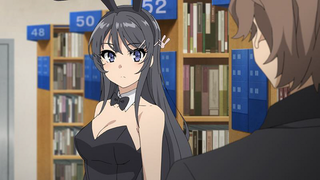 Yesterday was the premiere
Aniplex of America has uploaded the english promo of the anime of Rascal does not dream of bunny girl senpai, which you can see bellow:
Souchi MMasui (Sakura Quest) is directing the anime at Studio CloverWorks; Masahiro Yokotani (Re:Zero) is in charge of the series composition.
Anime News Network describes the story as follows:
"In the story, there's a rumor about a mysterious phenomenon call "puberty syndrome." For example, Sakuta Azusagawa is a high school student who suddenly sees a bunny girl appear in front of him. The girl is Mai Sakurajima, Sakuta's upperclassman and also a famous actress who has gone on hiatus from the entertainment industry. For some reason, the people around Mai cannot see her bunny-girl figure. Sakuta sets out to solve this mystery, and as he spends time with Mai, he learns her secret feelings. Other heroines who have "puberty syndrome" start to appear in front of Sakuta."
The anime will stream in Crunchyroll, Funimation and Hulu.

Via: Anime News Network