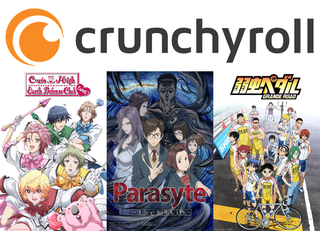 Sorry it has been so long since I last did something like this, but it is because of a few factors, like how we skipped over doing this feature for the Fall 2014 season and the fact that I didn't really have the time to get around to do this. Anyways, to catch people up to speed, one of the things we started doing at the Crunchyroll newsletter was creating articles that featured our five favorite Crunchyroll simulcasts for that given season. The first time we did it was for Summer 2014 and we only restricted ourselves to the simulcasts in our region and only things that started airing that season.

This time around was a lot more lax, and the participants were allowed to pick any simulcast that Crunchyroll had, even if it wasn't aired in their region, as long as it aired in the Winter 2015 season. The full article can be found here. Like last time I decided to aggregate all of the individual lists to find what the five overall favorites were amongst the participants, and also like last time I'll just let each of the writers do the talking for each series. And funnily enough, just like last time, this is technically a top six list, as the fifth place spot is yet again tied between two shows. So with everything squared away, let's get started!
#5 - Cute High Earth Defense Club LOVE!/Yowamushi Pedal: Grande Road

Never thought I'd ever see a magical boys series but here I am. Five boys lead by an alien that looks like a pink wombat fighting for love. Everything about them was love related from their transformations (and yes they even did the whole magical transformation sequences) to their attack names. And I loved everything about this show. I admit there were some ridiculousness to it but it's laughable in a good way. Seems even boys now can fight for love and justice if they want to.
This series was definitely the dark horse of the season — though it at first looked like a fanservice-filled write-off about magical boys, Cute High Earth Defense Club LOVE!'s genderbending of magical girl tropes and direct questioning of genre cliches ranges from being a hilarious parody to surprisingly satirical. The way this series never takes itself seriously while still prompting critical thought makes it ridiculous without being silly, and also incredibly fun.
Although Yowamushi Pedal's characters are all very interesting and fleshed out, Midousuji just takes the cake when it comes to being the villain, and his performance in the last stretch of the anime gave me goosebumps. I literally feel like he was the glue that held the whole anime together. Him and Izumida Touichirou's well-toned pecs, Andy and Frank, of course.
Yowamushi Pedal is one of my favorite sports anime series to date. I was on pins and needles waiting for the second season, Grande Road, to start airing due to the first season ending on a cliffhanger. Yowapeda doesn't disappoint, as Grande Road is a great continuation to a series I love so much. We get some additional character development across the board and more importantly some badass racing sequences that just sucked me in. I would obviously love to see Yowapeda continue as I know the manga is still going and the series is a bit of a juggernaut in Japan, but if the anime doesn't go on, I am perfectly satisfied with how this amazing race finished.
#4 - Your Lie in April

Easily one of the most frustrating shows I have ever watched, Your Lie in April was just as able to produce stunningly beautiful episodes as it was total clunkers. Although plagued by structural issues that compromised the effectiveness of the individual narrative threads, somehow all those issues melted away in the face of the show's incredible concert scenes, specifically those in episodes 10 and 22. In the end, Your Lie in April just wasn't consistent enough to be a truly great show, but it's well worth struggling through the lesser material to get to the brilliant moments of musical transcendence.
I was left unimpressed by Your lie in April 's first cour. Troubled past, abusive mom forcing her pianist ideals on you, mental block whenever you try to play piano, enter the girl who will save you from all that, etc. I felt like I'd seen all this before, but there was something about it that kept me watching. It's a good thing I did, because the second half kept me engaged from start to finish with top-notch drama, romance and unforgettable musical performances that really bring out the emotions music can carry. That and I'm such a sucker for the "childhood friend's unrequited love" thing.
#3 - Parasyte -the maxim-

What a fantastic show this was, mad props to whoever decided to revive this 20 year old manga. Truly shows that great stories don't age. Started out with an already interesting horror/shounen formula and turned into something so much more when the viewer is confronted with the idea that the Parasites aren't necessarily all bloodthirsty, brainless monsters to eliminate, but also a species that wants to thrive.
What can I say, Madhouse has worked their veritable magic once again. The Parasyte manga is an all time classic that has influenced untold numbers of creators in Japan and around the globe, but due to its age I gave up hope of it ever being adapted into an anime. Parasyte -the maxim- is far and away the best horror anime I've seen in years, if not probably ever. The animation is great, the soundtrack is recognizable and phenomenal, and of course the tale of Shinichi Izumi and his parasite Migi is simply, well let's just say there's not many things like it. Parasyte -the maxim- is a classic anime to go with a classic manga and was easily my favorite anime to air in Winter 2015 anywhere.
#2 - Shirobako

And then, there's Shirobako. Oh, Shirobako, did you really have to leave us? Did you really have to take Aoi Miyamori, one of the best female anime characters EVER, and vanish into the uncertain abyss of hoping for sequel? Trying to describe what makes Shirobako great is a pretty difficult task, as it's really the sum of a whole bunch of little things that quietly bloom into something truly special. It's the little bits of workplace wisdom, the way the five former members of the Kaminoyama High School Animation Club all work towards their goals in their own ways, and the way the show is optimistic without being unrealistic. In short, I think Shirobako is a pretty important work. It may not be the flashiest, but it won't steer you wrong.
An anime about creating anime—but what a wild, informative, and entertaining ride! I haven't had this much fun learning about something since Holo the Wise Wolf (and some medieval nerd called Lawrence) taught me about economics! Five female friends from high school pursue their dreams of making anime, letting us tag along and watch. Look for that magical, defining scene in the last episode when the studio's new animator first sees Aoi's own stress-induced hallucinations. . .
Now I didn't hate Shirobako at first, actually I quite liked it. But initially I didn't know where the series was going to go. Shirobako seemed directionless at first, but thankfully the show picked up and became a much watch series week in and week out for me. It's a great look into the anime industry, and must be commended for having such a large cast of beautiful, hard working women that aren't subjected to pointless titillating fanservice(in the show itself....outside of it, however.....). All in all, it was great to see another series that focuses on adults period. There's not enough anime that do that, so any of them that do are precious commodities to me, the ones that are actually good shows even more so.
#1 - Yona of the Dawn

Shoujo anime and I have been a very good terms as of late, and Yona of the Dawn has been a big part of that. And, honestly, it really seems kind of unfair to pin Yona down with the shoujo label. Sure, it definitely has the trappings of the shoujo genre, but it's really just quality storytelling accompanied by some of the best production values I've ever seen out of Studio Pierrot. Calling it a "good shoujo" feel diminutive when it really should just be called a "good anime." The thematic and character depth of Yona is truly astounding; please do yourself a favor and watch it.
Tragedy can create strength. We see this in the character development of Princess Yona, the titular protagonist who must recreate herself and her role after her father the king is assassinated, forcing her to flee her palace home. Will mystical dragons really aid and protect her? And just what are her plans, anyway? The twin fates of a young girl and an ancient kingdom await the answers to these questions.
Definitely one of the best shows. I loved watching her go through this journey. A betrayal caused her to lose everything but she rose up to become a strong, brave individual. Of course she didn't do it all on her own. She still had a friend and confidant Hak to keep her going. Together allies were gathered to help her goal of trying to get her kingdom back. I just wished this show didn't stop where it did. Hopefully, another season will happen to continue this journey. There is just so much more to see.
Yona of the Dawn is incredibly beautiful, both in terms of animation and story. The realistic characters, having wonderfully explored backstories and emotions, seal this anime's success by solidifying the fantastic blend of action, politics, humour, love, and tragedy. In combination with a beautifully-crafted atmosphere reflective of ancient Korea, Yona of the Dawn is a heart-gripping adventure in desperate need of a second season.

Yona of the Dawn is an interesting show. It is most certainly a reverse harem shoujo show, but it is also a shonen action show. This combination results in Yona of the Dawn being a show that can be enjoyed by just about everyone. Plus seeing Yona go from the meek and generally helpless princess she was to a fierce, determined young woman was great. Here's hoping this show continues at some point in the future.
And that's it folks! Any surprises with this list?