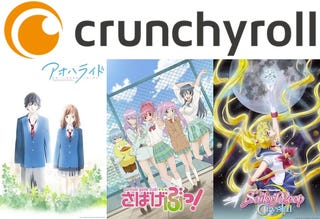 As some of you may or may not know, I don't just dish out my opinions on anime here at Ani-TAY, but also by contributing to Crunchyroll's official newsletter. Now that the dust has settled on the Summer 2014 season, I got together with a few of the other writers for the newsletter and we each made our own personal Top Five simulcasts lists, all of which can be seen in their entirety here. I decided to make things a little bit more fun for myself by aggregating all of the lists together to find out what our collective Top Five were. Just a simple method, each #1 placing would be worth 5 points, #2 placings would be 4 points, #3 placings 3 points, etc. And the five series with the most points would form the overall Top Five.
Some things to keep in mind, we limited ourselves to only shows that aired on Crunchryoll(so no Tokyo Ghoul or anything of the sort), and only things that started in the Summer 2014 season(so shows like Haikyuu!! wouldn't be allowed, but shows like Sword Art Online II would be). And lastly, I will just let the writers do the talking by quoting their already stated explanations in the main article. Why? Because sometimes I'm lazy, that's why. So with all that out of the way, let's get started!
#5 - Blue Spring Ride/Sailor Moon Crystal
Well, ok so it is technically the Top Six favorites, as you see, Blue Spring Ride and Sailor Moon Crystal tied for the same amount of points and neither had any first place votes(the only tiebreaker I had in place). So let's just do both! First up, Blue Spring Ride!
It's amazing my interest in this show started from the Cruncyroll's tweet about it. Now it's a personal favorite of mine. This show wasn't long enough. I still want more. We were finally starting to see something between the two main characters. After each episode, a little more development was made. We get to the end with something and we just stop. Speaking of development, more from the other characters would have been nice. Maybe if a season two comes around we could get into them.
It's been a while since I so thoroughly enjoyed a shoujo title. They so often use clichés that instantly turn on that "this is to please fangirls" switch in me that I've become very wary of picking them up. Blue Spring Ride puts all these worries aside and delivers genuinely interesting characters with depth, emotions you can relate with and the brains to find sensible solutions to their problems. Also it made me cry ;-;
Although I usually cannot stand shojo anime, there was something about Blue Spring Ride that kept luring me back every week. Part of what makes the series so accessible is the development of bonds between family and friends, as well as how the characters work together rather than engaging in excessive drama. The series also keeps the romance fresh via the interaction between the main two characters: an ordinary girl and a boy who already knows too well the pain of living. Blue Spring Ride is not just a romance, but a story of healing that knows how to hit the heart in the right places.
And now onto Sailor Moon Crystal!
I actually ended up dropping Crystal recently, bailing for the original series, but it's to Crystal's credit that it preserved the spirit of the original material enough that I wanted a better version of the show. Production values notwithstanding, the writing was a little on the lackluster side, but Sailor Moon is still Sailor Moon.
Biggest anticipation and wasn't disappointed. There were a few animation hiccups here and there but nothing that decreased my view of the show. Still enjoyable and stayed true to the manga source with a few minor changes. Unlike the some other shows that started this summer, we still have more Sailor Moon to look forward too.
I mentioned in my review that I'd never watched a single episode of the original Sailor Moon, and that's probably why this reboot hooked me so deep and proved such a pleasant surprise. The story is simple, the characters endearing, and the action flashy and exciting. Crystal is just such a pure, innocent super hero show that it's really difficult to NOT like it. It's also super entertaining to make a room full of dudes watch, because they all end up loving it.
#4 - HaNaYaMaTa
Blue Spring Ride and Sailor Moon Crystal weren't the only two shows to tie, HaNaYaMaTa also ended up in a tie with the third place series, but that tie was broken because the third place series received a #1 placing.
It feels like many people overlook HaNaYaMaTa — so it goes for any anime with a cast of cute girls — but to me, it is the surprise of the season. Despite being a seinen anime, HaNaYaMaTa doesn't have those sexual overtones that would normally turn this series into a lolicon one, leaving it as a refreshing slice-of-life anime. The series also introduces aspects of traditional Japanese culture in an entertaining way that balances comedy with drama so as to never be melodramatic, but rather emotionally effective.
Easily the most surprising show to come from this season for me, HaNaYaMaTa sets the new standard for its genre in my eyes. Madhouse brought out the big guns for this show, giving it some stunning beautiful visuals. And unlike most shows of its ilk, HaNaYaMaTa actually has a full on story to get invested in. On top of that, it was a rather surprisingly emotional ride, as things did get a little misty for me from time to time while watching this. HaNaYaMaTa isn't just the best series of the season showing cute girls doing cute things, it is probably the best of the year as far as I am concerned.
#3 - Sabagebu! - Survival Game Club!
An absolute jewel that totally took me by surprise, if only every season had a comedy like this. Gratuitous (imaginary) violence, a hilariously detestable main character, unexpected twists that spit in the face of typical problem resolutions and a memorable narrator to make everything that much more funny. 10/10 would watch again.
Great comedy that always caught me off guard, a nice use of pop culture references, arguably the best narrator in anime ever, and an entertaining cast are just some of the things that Sabagebu! brings to the table. Main heroine Momoka is far and away the biggest jerk to ever dare call themselves a protagonist, and it all just escalates from there. From a purely entertainment standpoint, there were few things this season that could top Sabagebu!.
#2 - Free! Eternal Summer
Markedly better than the first season, Free! Eternal Summer took some serious steps towards being more than just an exhibit for wet male muscles. The writing was better pretty much throughout and Haru's arc at the end of the show was some of the best drama of the whole season. And through all this, Free! never lost the fun-loving spirit or beautiful visuals that drew me to the show in the first place.
Without a doubt, Free! Eternal Summer has been the most fun-filled, yet heart-wrenching series of the summer. The visuals are absolutely gorgeous, but the best part of the series is by far the character development, particularly the main character's; it is incredibly subtle, but has moments of drama in the right places to highlight this. It takes some work to decipher some of the more complex character development — the series doesn't spoon-feed its audience — but the characters are so endearing that it is difficult to accept that the series is over.
Forget the haters and forget the people crying manservice. This show is wonderful. Biggest surprise of the season for me (since I hadn't watched the original until a few months ago). It's such a "real" high school sports story with such believable characters that I found it difficult not to be drawn into the entire world and believe that swimming with friends really is just the MOST IMPORTANT THING. While a lot of (mostly shonen) sports stories use crazy exaggerated hot-blooded characters who LIVE for competition, Free! was such a welcome change with a protagonist and supporting cast who really just want to swim together and support one another...though winning turns out to be pretty fun, too. The drama each character faced throughout the season echoes the difficulties plenty of high school athletes face, and if you played any sport in school you're bound to relate. It also doesn't hurt that the animation is beautiful, the races exciting and intense, and the voice acting top-notch. I wish I could see you again next summer, Free!
Last Summer, Free! was one of those series that truly surprised me. I was wary at first because I kept hearing how it was just for girls, but I was taken back by the action, the comedy, and the gorgeous animation. Free! Eternal Summer is more of that, with the added addition of the characters actually getting some significant character development! It is far from perfect, but regardless, it was a nice continuation and conclusion to the series that made me into a fan of sports anime. And seeing as that is now one of my favorite genres, Free! will always have a place in my heart.
#1 - Monthly Girls' Nozaki-kun
Come on, what else could #1 be given the eligibility parameters?
Easily my favorite show from the season, Nozaki-kun was a hilarious, lovable ball of fun, cuteness, and intelligence from the very first episode—traits it sustained throughout its entire run with remarkable consistency. The revolving character wheel that let each character have their turn as the crazy one or as the straight man was the show's biggest boon, and there were a ton of jokes and gags that landed well with me personally. I hugely recommend Nozaki-kun, without reservation.
This was my go to show this summer. I had no doubt when I watch an episode I would leave feeling so much better about my day. There was always something funny going on. Kudos to the writers for this. Who knew making a manga could be so funny. I think I can speak for everyone who has watch this that a season season is needed and wanted. I'm glad I decided to give this show a chance.
True story: I literally dropped this anime after the first episode, thinking it was going to be a sub-par shoujo. A friend slapped me back to reality by telling me it was actually a comedy. I came back to it, somewhat reluctantly, and never looked back. The synergy between the characters and "gathering ideas for my shoujo manga" approach led to a lot of great gags.
I know, I know, "Another person picking this show as their #1?!". Well that's because it is genuinely a really good comedy. And Nozaki-kun manages to do it while executing a rather basic premise. It's a show about flipping the conventional gender roles of its genre on its head, and that surprisingly works out incredibly. Every episode left me absolutely breathless, and often at some of the most seemingly random things. There isn't a single person on this cast I hate outside of the two that were specifically designed to be hated, and even then only in a comedic way. One of the things I looked forward to each week this season was discussing the latest episode of Nozaki-kun with my friends, and laughing for who knows how long from simply reciting the things we had just seen. And it is for that reason that Monthly Girls' Nozaki-kun is my favorite of Crunchyroll's Summer 2014 simulcasts.
And so there you have it! Also, what I meant by "friends" in my explanation for Nozaki-kun, I was referring to y'all putzes in the Ani-TAY Skype chat. :P
From now on I'm going to try and crossover my work for the Crunchyroll Newsletter with here, so expect more things like this in the future. :)