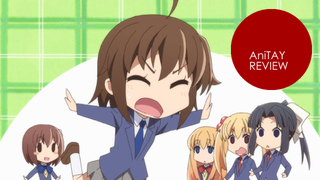 Chronicles of the Going Home Club isn't what I thought it would be. Behind the cutesy promotional images and trailers, there's a solidly funny comedy, even if it's one that aims for the middle.
If, like me before this review, you haven't heard of Chronicles of the Going Home Club, I'll break it down for you. Going Home Club centers around the eponymous after-school club with a paltry four members. Their objective is to have fun, which, given the personalities of the girls, ends up kind of strange.
An Expectation-Defying Comedy
Chronicles of the Going Home Club isn't just another shoujou comedy. In fact, it frequently ventures deep into otaku territory, with gags relating to Dragon Ball Z, Fist of the North Star and Dragon Quest, to name a few.
It's unusual to see a series swing between shoujou and otaku gags so frequently, and more importantly, so gracefully. Many series that attempt to do so end up feeling like they're not really adept at one or the other, but Going Home Club its great at both.
One of my personal favorites on the more otaku-related end of things is a sketch in which the girls dissect Schubert's Erlkonig (or Demon King) and come up with a plan for the Demon King to up his game. It's a hilarious and smart sketch that actually had me in stitches.
Short Sketch Format
Like Daily Lives of High School Boys, Chronicles of the Going Home Club employs a sketch format. Each episode consists of between two and four sketches. The key difference between Daily Lives and Going Home Club, however, is that Going Home Club's sketches are interconnected, which helps the flow of each episode.
Likable Characters
The real draw of Going Home Club is the characters. Unlike other comedies that are more gag-focused, Going Home Club relies on the characters' stories. Of all the characters, the funniest is probably Botan, a video game obsessed badass martial artist with a penchant for bear-fighting. She's always trying to rationalize subjects into either a video game scenario or their eventual martial arts-related defeat. Most scenes with her are pure gold.
Rounding out the cast are Claire, a rich girl who is hilariously out of touch, Karin, an immeasurably cute girl with hidden talents, Sakura, the president of the club who is remarkably unremarkably, and finally, Natsuki, the normal girl who was just trying to make a joke and ended up in a club full of insane people.
Even though each character has their own unique slant, they never feel too predictable.
Premium Edition
While the content of the premium edition of Going Home Club isn't much to write about—that is to say, it's par for the course with NIS America releases, which isn't bad—it's the content of the book that's really great for fans this time around. The book is full of interviews and art, and some pretty funny fake summaries of each episode. If you're in the market for a physical release, the book alone makes the premium edition worthwhile.
Chronicles of the Going Home Club is a competent, fun comedy. It doesn't overuse its jokes and connects its sketches to each other well. It's not as laugh-out-loud hilarious as Daily Lives of High School Boys, but it's still great in its own way. It's a fun series to watch, and definitely worth your time.