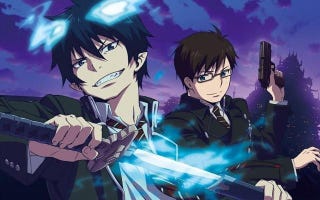 Great... It looks like I have to take this off my sequel project of anime that seriously need a new season. A monthly Manga series Blue Exorcist was a big hit in 2011 being popular enough to even garner a movie adaptation. However there was a slight snag... another monthly manga, with similar themes, and an overlapping audience became a monster hit not seen in decades just a year later; yup, Attack on Titan.
With it's audience abandoning the series the chance of a second season seemed slim. However in Jump SQ it was announced the second season of Blue Exorcist is coming in 2017 Ao no Exorcist: Kyoto Fujō Ō-hen (Blue Exorcist: Kyoto Impure King Arc). Considering how the original anime ended I'm interested in how they're going to get the series back on its original footing.
Furthermore along with the announcement key members of the production team have been announced. Including Director Koichi Hatsumi known for the criminally underrated Deadman Wodnerland and Berserk: The Golden Age 1. Toshihiro Ono is bringing brought on as Series Composition who's works include The Perfect Insider and Gatchaman Crowds. With a solid story and a solid team, I'm excited!
If you want to watch Series One both it's dubbed and subbed Episodes are on Netflix for easy viewing.
Via ANN