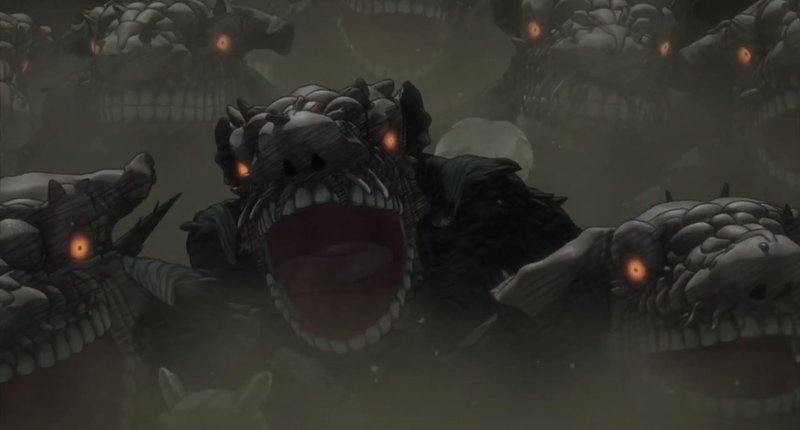 Hello Again! We have reached chapter 18 and the fight against the trolls is about to start, what will be the reaction of the townsfolk? will Guts and his group up to this task? who will die and who will live when all of this gets over? Let us find out!
Fightfor survival against the demonic legion
Gut´s group is in front of the mob from that eldervillager is, they are amazed by seeing the group who has an imposing person andwhat it looks like 2 witches; their impressions changed suddenly when the newsthat the witch was none other than little Schierke, adding more salt to thewound it is that the local Pastor is very opposed to this idea and in a matterof few words has convinced everyone that this is just a trick pulled by Morgan;in any case after a few words coming from Gut´s mouth, they have permission tostay in the village and pass through in quality of pilgrims.
After that the group is preparing for the upcomingattack, or rather a communication device centered on Schierke´s hair andtelepathy, that ways she will be able to communicate with them, although theywon´t be able to answer back. In any case after a little argument between the 2youngsters of the group; Isidro leaves the place all angry alongside Puck.
A little later; on the water bed of the river,Isidro was training with his sword alongside Puck; soon enough Morgan entersthe conversation and says that he was fishing; but got no luck whatsoever,still the conversations goes towards two things: the first one is a rief storyif this village, which was a popular resting spot in the past; but not anymoreand how Morgan shared his story and the reasons why he is still here. Thesecond is about Isidro´s feelings towards Guts and if he admires the man withthe giant sword, Isidro, being the prideful person he is, says that he doesn´tadmire Guts or anything, rather he is just here to steal his ability and that'sall!
After Isidro leaves, Guts appears and Morgan justsays that in truth it looks like that Kid has a big admirations towards him.
Meanwhile Schierke has detected that a point wherethey have to put a strong defense is the Church since when the Trolls attackthe people will most likely come in here, suddenly some village kids startthrowing her some stones and says that the priest has told them that witchesand trolls are equally bad, still their attacks are stopped the moment Gutsappears on the scene and after that Schierke says that as a matter of fact sheis quite angry with this quest, since this whole village are nothing; but abunch of ungrateful people; but not only that since that Church over there wasmade over the ruins of an ancient spiritual place, so she has some nasty feelingsfor the Holy see in general and their followers in particular since they havestepped on the ancient rites and also has used the fate only as a statussymbol, by making war and all of the other nasty stuff. At the same time shehas grudges against the people for how they treated her Master when she wasyoung, since she at first helped with their sick people or serving as a medium;but when the holy see came they got rid of her and obliged her to live in theforest.
It is after that speech that Guts just tells theLittle Witch (that it isn´t in any Academia) that if she feels like thatthen…She should just not do anything, screw this guys! They don´t deserve theirhelp anyway, and since that old witch is about to die anyway, then there is nopoint in continuing with this whole thing.
Of course Schierke just thinks that doing that wouldbe a something truly irresponsible and that there is no way that Guts is partof her destiny! That would be bonkers!
At the same time, Farnese is dealing with Casca andthe fact hat she doesn´t want to put the hair on her finger! Still Farnese istaking care of her and doing it. Serpico looks at the scene and it seems thathe is seeing something new in her, that she cares for other people now, somaybe this whole endeavor it is not something futile; but rather something thatit is changing Farnese, and for good. Still… Serpico wonders what he is goodfor then? Since in all of the years he has knowing her she never changed, orrather even changed at times for the worse.
The sky turned gray… The time has come and theTrolls are coming. Quickly the group redirects to the Church while at the sametime the villagers starts running towards that place!
The attack of the Trolls starts and Serpico is thefirst one to enter the actions! He uses his sword; but it has little to noeffect until he remembers that he has to "see" the wind spirits, after doingthat the sword has a lot of effect! So much that it cuts his enemies likebutter and in big quantities! His cape for his part protects him fromprojectile attacks!
Isidro, for his part tried to attack a troll only torealize that they are never alone so he just throws some of thoseberries/balls/whatever and it makes their work to stop them for a second! Still there is no other way than running!
At the front of the Church, Casca falls and Farnesetries to protect her using her body, something that Serpico never have imaginedto see. All in all he defeats the Trolls; but besides such thing there wassomething happening, and it is that the enemy just stopped, like freeze whenthey were near Casca.
Now it is time for Guts to enter the action and hestarts killing the Trolls using his giant sword! Opening an opportunity for therest of his group to enter the church alongside the other villagers…
…What they found in there wasn´t hopeful and thehorror soon covered the minds of the townsfolk since…
The trolls where already in; Meanwhile Kierschewonders about Gut´s weapon and she starts making some enchantments in order to protect everyone, even though thePriest, like any caricature, comes in and tries to stop her because reasons… Goodluck to her that Farnese and Casca appeared and stopped him, although theTrolls started climbing the church. On Farnese´s part, she got immobilizedafter hearing the reasons of the Pastor since…those where the same ones shesaid when she was in the Holy iron Chain…So she can´t do much.
Back at the battle Guts decides to guard theentrance while Serpico and Isidro goes inside and handle things there! At thesame time the Trolls are already with Kiersche, the priest and company; whenthey were about to attack Casca they suddenly stopped, a chance that Farnesetakes to take on the enemy. At the same time Isidro is having a bad timedealing with these monsters and would have died if not because Morgan protectedhim! Act that encourages the townsfolk to join the fight!
Back with Kiersche, she has activated her magicspell and the trolls inside the temple are being destroyed while at the sametime the wounds in Morgan´s back are being healed!
Whatthe Band of the Haken say about this:


Requiem
If I had demons and /or trolls eatingpeople in my village, I wouldn't bitch about who shows up to stop them. Especiallyif one of them is like 7 feet tall and has a sword the size of a dinner table.
Tenshigami
You would if they were worse than thetrolls
Requiem
That would be hard to accomplish
Tenshigami
I mean he's not, but…
Requiem
I'm just saying, in the kind of crisis,if someone shows up and is all "hey let me handle those trolls foryou", I'm not sure your first reaction should be "Fuck off, you notexactly like us."
Pragmatism has to kick in theresomewhere
ShadowHaken
Indeed. Although I found funny how thepriest quickly changed the hearts of the people... Like it wasn´t their idea onthe first place to search for a witch? But in any case, the whole thing it madethe point across, so that´s something!
Requiem
The direction in some of the actionscenes is so bad.
ShadowHaken
Well I liked on this chapter the Gut´sbattle, even with the CLANG! Although I agree that more times than it shouldthe battles leaves a little more to desire...
Requiem
Oh it's a good chapter, but they put thedamn camera angle in the worst possible place sometimes
NomadiqDec
Don't they do that all the time?
ShadowHaken
Yeah...
NomadiqDec
It's almost like somebody made a betwith their buddy that they could create the most poorly directed anime thisside of Hand Shakers. Now imagine if Wit Studio was doing Berserk instead...
Raitzeno
IT'S GOIN' BEAR-SERK…No wait that's Teddie, nevermind.
ShadowHaken
Now talking on a more specific point,personally the chapter was good enough and with a good balance in story andaction; still the action-scenes (or rather the camera) aren´t as good as howone would like them to be, nonetheless the job is well done and even on thischapter it opened to some plot points that it might be resolved in futurechapters, like why the Trolls gets frozen when Casca is nearby? Or will theVillagers change their mind about Guts and his group/witches/magic? And willKiersche´s opinion on the townsfolk and Guts will change?... Well with Guts theanswer is obvious; but you get my point.
Anyway, that is all for me and see youthe next time!