We are back with a new Berserk Article! Now... For this time, we will use a new modality called "Berserk Chat" where Jon, Myself and other members of AniTay will talk about this two chapters and the series in general. So get ready because the thing is going to be intense!
what's going on with ol' Mozgus?
ShadowHaken
Greetings! And welcome to this Special edition of the Berserk Cover-Up Articles, I am Shadow Haken and it will join me...
Jonuiuc ,Gugsy, Requiem and Kinsky.
Let us start with the past Week Berserk Chapter, which i will say that i can resume it with 2 things: Berserk fighting and the explication of that Egg thing.
Still, the battle was nice, and i liked how Guts dealt with the "Birdman Mask" person, and the other guys who were somewhat Random enemies for my eyes.
Gugsy-

I have no idea what's going on with ol' Mozgus
And his boys
They got "baptized" and are now super angels or something
jonuiuc

Like what they were doing or how they got to transform?
Gugsy-

Both
ShadowHaken

Mozgus is basically a Super Extreme fanatic, basically a caricature within himself, being able of great mercy, but with the same hand he can do and say truly monstrous things...Or at the very least that's how i see him
As I understand the Egg Thing gave them powers because reasons
jonuiuc:

That egg/spider thing was able to "transform" people, he did it to the goat guy and did it to Mozgus's crew before they got overwhelmed by the spirit blob from the dungeon.
ShadowHaken

Although it´s reasoning are almost a mystery, don´t you think?
Gugsy-

The egg spider thing that isn't the other egg spider thing that's protecting Casca?
ShadowHaken

I mean the egg thing basically does it to troll people out, no?
Nope. That´s a baby
Gugsy-

"Baby"
MoeblobHaken-

Yeah... Casca´s baby...
jonuiuc

Since this apostle was a sentient behelit, I guess that's what he does. Mozgus's inquisitors were basically only concerned with protecting Mozgus. Mozgus felt he must burn Casca to stop the demon blob, since from his point of view it originated from Casca the "witch" herself.
ShadowHaken

Hmmm... I can see some logic after reading what you said Jon, since the Egg thing is a living Behelith, and those things give powers, then he has the power to... Give powers...
jonuiuc

Yeah the egg apostle thing told Luca his origin. The demon baby protecting Casca was different. You can see it briefly get blasted by Mozgus when it was rescuing Casca from the blob from dungeon up the stairs.
Gugsy-

Wasn't the evil power giving egg thing also a human who got powers and turned into a Behelit?
ShadowHaken

Yeah.
jonuiuc

As far as I know, the "origin" of the demon baby has never been shown on an anime. It might not be showable, as its origin is.... clearly shown.
ShadowHaken

Still, as far as I know, the Behelits give powers...SO he being a living one then... He can give powers too.
Gugsy-

And the demon blob is basically a mini eclipse thing?
jonuiuc

Yeah the behelit gives you your dream. But this poor kid's only dream was to cease to exist and maybe somehow usher in a better world.
So he became the "Egg of Creation"
...Eggs have a life inside of it
ShadowHaken

Yeah. I am advancing myself a little; but by the end of the arc everything will fall into place
As Jon Said ...That thing is an Egg...And the eggs have a life inside of it
jonuiuc

This whole thing is like an echo, or as skull knight said, the shadow cast by the event that Guts and Casca lived through on the night of the eclipse. It has similarities. A insane number of sacrifices being one of them. And the tower collapsing in the shape of a hand....
Gugsy-

I can't tell if the CG has been improving, or if I'm just getting more used to it
ShadowHaken

I think it is because they are mixing both traditional animation and CGI one...
Since some chapters ago they are mixing both having a somewhat original take on.
jonuiuc

CG was only good on Mozgus. Anything human looked terrible. Even the pasted on drawn faces are terrible. There are shots of Jerome that look awful.
Isidro came though It's a nice moment for him.
ShadowHaken
Indeed. When they make some close-ups to the faces, it feels like some licensed videogame made by a cheap studio, almost feel like i have to grab my controller!
Indeed, As a matter of fact, Isidro had his own Mini-arc in a way...
Which is trying to impress Guts, he fails at first; but at the end he manages to save Casca and even helps to defeat some of those Angel guys.
Gugsy

The chibi-faces are really distracting too
ShadowHaken

I love them! It truly reflects how Puck goes on the manga...Which is being the comic relief in a truly dark world.
Gugsy-

Because of the quality of the rest of the art, I can't tell whether it's supposed to look that funny, or if it's just another symptom
ShadowHaken

Whatever it is... It is truly funny... and somewhat cute (talking about Puck anyway)
jonuiuc

Despite all the eye-scarring art. There are some interesting themes touched upon, especially in this latest episode.
When I read the manga (maybe this was a translation difference). I got the sense from some dialog that this mini eclipse could be preventable if Guts and Casca were actually killed or sacrificed. With Mozgus and the people basically begging Guts to let himself and Casca die to save them. The anime does not have any of this, and the dialog seems to suggest this is unpreventable. I like Gut's line saying that the thousands of people pleading for someone's life in exchange for theirs wrong. His underlying existence is basically the struggle and fight to live against these insane cosmic forces. While people many people are just willing to rely on other of frozen in terror waiting to be saved or die. The protagonists take it into their own hands. While Mozgus preaches faith.
Gugsy

An evil faith at that
jonuiuc

In the manga, Puck is portrayed both ways. People call the chibi form his "Chestnut" form. Its unknown if the other characters see this.
ShadowHaken

You raised an interesting point Jon, since as said by the Skull Knight, this thing is unavoidable.
Which also makes in a way the Skull Knight a somewhat tragic figure, since he fights the fight too; but he knows that in the end he won´t be able to do much
Requiem

Couldn't they have killed the egg?
Old Skully seemed to be trying
Gugsy-

And Bad egg has eaten Baby at this point
ShadowHaken

Indeed; although ultimately he failed...And since Skully, as Requiem said, says that it has to be with the Karma thing then...Those karmas are invincible it seems
Like if its another word for Destiny
More like he it´s being hatched... Gugs...
Cholesterol?
jonuiuc

I think another mini arc is Guts inspiring Farnese. Like she had a screwed up childhood and her faith was messed up when she encountered the demon dogs and rape horse. So she finds Mozgus who makes her feel better in trusting in her faith, only to see him transform into a monster while torturing seeming innocent people. And seeing Guts who never gives up. Even Luca is pretty baddass in her own way, impressing Skull Knight. Azan lives up to his "Knight of the Bridge" title trying to rally the remaining knights to protect the people who get locked out of the tower. With Guts making the observation that people are trying to save themselves by running in there, but its like the worst place to go in this disaster.
ShadowHaken

Or I see it that way, the baby is being hatched again
Requiem

Ah, the rape horse.
A berserk original
jonuiuc

Yeah I still don't know if the Egg Apostle eating the demon baby was fate, or just a stroke of luck brought on by kindness.
ShadowHaken

Man I would gladly see a Berserk Spinoff based in Azan. He it´s truly that awesome!
Gugsy

Wait so the Egg eating the Baby is good or bad
ShadowHaken

It depends...
Like most things in Berserk, it can have a multitude of interpretations
Requiem

Both, I think
ShadowHaken

Also at the very least, we didn´t sought the Horse Dong...Like in the manga
jonuiuc

Can't tell to see how it turns out (even in the manga). Though (spoilers) the baby is saved though.
ShadowHaken

Oh yeah! He is!...
My mind just forgott about it...
jonuiuc

Sort of makes sense. What is the Egg Apostles one power?
Requiem

Cholesterol?
jonuiuc

the good kind or the bad kind?
ShadowHaken

Eggs Cholesterol doesn´t affect the heart though
Gugsy-

There needs to be a clear distinction between apostles and Apostles
Like the big 5 Apostles
ShadowHaken

Well the Apostles are the servants of the God Hand, no?
Still it seems it´s a much divided organization
Requiem

The big 5 are the actual God Hand
jonuiuc

Really if anything this Anime should just be used to really try to convince people to read the manga. To see the art improve and improve to the level that Miura is at now is amazing. And you did not have to wait 20 years like us old farts if you start now.
ShadowHaken

Indeed, that was I what I was saying
Requiem

Who serve the Sentient manifestation of the idea of evil
ShadowHaken

Indeed, this manga and World War Blue are the only ones that truly function like a diary of the improvement of their own authors
jonuiuc

The godhand mention offhand they serve something else. That just might be their natures though, theay all have a quirk based on the negative side of human thought or emotion.
Though all the apostles are motivated by their one obsession.
ShadowHaken

Indeed... It´s truly interesting all the things that are in Berserk´s universe, still I am afraid that we might not even see or comprehend everything, although it might be better that way, leaving something to the imagination.
...Counterparts of Guts and Griffth
Requiem

The question is, will there be more Berserk? And if they make more, will they abandon this bullshit CGI
ShadowHaken

In the Manga? Of course there will be more!
Requiem

I mean more anime
ShadowHaken

In Anime?... I don´t know, maybe...
Gugsy-

It might be a death knell. I don't imagine a lot of fans are eagerly awaiting to buy the DVD/Blurays of this one. Or maybe there are
Requiem

Hate to wait another 20 years
ShadowHaken

Also how many chapters do we have left?
Requiem

I'll buy it. I'll buy it just to push for more
ShadowHaken

Let us make a foundation to buy lots of Berserk DVDs
jonuiuc

I will say though the more I see of Skull Knight and Zodd, I see them as sort of reverse roles counterparts of Guts and Griffth. Skull Knight, who may or may not be an elven king, with a noble bearing, uses a one handed sword atop a horse. Fights against the manifestations of Destiny and anything supernatural that interfere with human freedom. Kind of a good path Griffith. Zodd, who lives only for battle. Became and apostle probably so he could fight the strongest forever. But totally willing to serve the God Hand. Like the evil opposite of Guts., who would not serve anyone even at the cost of his best friends.
Requiem

Get a petition on change.org for a new cour animated by BONES
ShadowHaken

That's truly interesting Jon, It truly never crossed my mind, I think you are right... Heck now that would be part of my Head Canon
Requiem

Zodd just makes me think of the villain from Superman 2
KNEEL BEFORE ZODD
jonuiuc

I know I've seen youtube vids of people praying that in 5-10 years we'll get a Brotherhood or HxH (2013) version of Berserk where they start from the beginning, with good art and faithful to the manga. Probably no chance of that until Miura gives sign he is about to finish.
We get out of the boat!
ShadowHaken

Heh. Now changing a little the topic... What do you think it will happen in the next episodes?... Especially if you haven´t read the manga already
Gugsy-

Sadly, I don't have a lot of faith Miura will ever finish
Requiem

I dunno if I need to see the Golden Age a third time
jonuiuc

(remains silent)
ShadowHaken

Haha. Don´t lose hope Gugs! We get out of the boat!
jonuiuc

They cut a couple things out of Golden age, but yeah....
They are off the boat!
Gugsy

It's almost a Game of Thrones situation, at least IMO, where the story and world has grown far too large and complicated that adequately bringing everything to a close seems harder and harder, the longer they go on
jonuiuc

The new art is amazing btw.
ShadowHaken

Man it truly is!
jonuiuc

thats one panel.
Requiem

Woah. Check the detail on that
ShadowHaken

Well It can get simplified a little...If they focus more in Guts history and leaves everything on the side...Although some people might not like it
jonuiuc

Like Miura´s disturbing stuff is disturbing. His beautiful stuff is beautiful, but his cute stuff will knock you dead and break your heart.
ShadowHaken

Remember that he is the guy who designed Miki in Idolmaster (He did it , right?)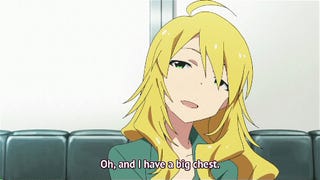 jonuiuc

Requiem

I can't comment on what happens next, as I'm already mostly spoiled
jonuiuc

Yeah I think so. Man spending so many years with that game...
Ah well he actually writes faster than George RR...
...think this whole tower of conviction and Golden Age are just sorta prologues....
ShadowHaken

Then... the question will be, how far do you think the Anime will reach? Do we will get to a new history arc, or it will end abruptly?
Requiem

No wonder it takes him so long, he's busy drawing individual lines on leaves
jonuiuc

I heard this was twelve? Or is it 24 eps?
ShadowHaken

Yeah... there is no doubt in that Jon
Gugsy-

I think it's only 12
So next week is game over
Requiem

Way too short, really
ShadowHaken

Indeed, and one can see it since they erased the Lost Children arc.
jonuiuc

well if they come back with a new studio. it probably can't look worse. for SNAFU than say Log Horizon second season.
Lost Children is incredible disturbing and sad.
Requiem

Even Gunslinger Stratos looked better
ShadowHaken

Indeed, the part where the "Elves" played to be Adults was truly shocking
jonuiuc

Yeah that Arc in itself is tragedy wrapped up in horror.
Kinksy

Ouch req
That's harsh
Requiem

I'm OK with skipping that arc
Shows depressing enough
jonuiuc

I'm a Troll Arc person. Just as horrifying, but it really kicks off the adventure.
Shadowhaken

Haha, still it´s good
jonuiuc

To think this whole tower of conviction and Golden Age are just sorta prologues....
Requiem

The CGI is the drizzling shits, Kinsky!
It's such an abomination it might be an apostle itself!
ShadowHaken

yeah... Like if we are in a series of prologues to the main event...
You are killing me Req! lol
...All of you will be playing it safe and watch Childs anime
jonuiuc

I'm trying to think of shows that look worse. Maybe last few eps of Soul x Blade. Hitornoshita?
Kinksy

Aku no hana?
jonuiuc

What would you guys sacrifice to get a better looking version of this story lol.
ShadowHaken

Hmmm... Saint Seiya Soul of Gold (the Tv version, not the Blu-Ray) it´s one I can think off, which looks baaad with a B of Horrible
Kinksy

Aka why the fuck did you rotoscope
Requiem

The first episode of Ace Attorney?
jonuiuc

Well flowers of evil and ping pong and stuff, that's like an art decision that can be seen as artistic. This, unless they were trying to give the audience the Meta feeling of how messed up the world is.... its not good.
ShadowHaken

Indeed.
Requiem

That fucking Magical Girls short that murdered my fantasy team looks worse. Just.
jonuiuc

Though the one scene where he saves Casca from the cult goat. that's was good.
Might have been the scene, not the animation though.
Gugsy-

Yeah that was really good
ShadowHaken

Indeed, it was truly good.
Although the fight I feel it more epic in the manga
Requiem

Oh the cult Goat with the snake dick?
jonuiuc

Berserk murdered my anime fantasy team. I should have picked Food Wars and played it safe, but nooooo I had to gamble on nostalgia.
ShadowHaken
yeah...
Hahahaha
jonuiuc

There is a saying. If its Berserk. It probably rapes.
ShadowHaken

Soon all of you will be playing it safe and watch Childs anime with me!! Muahahaha!
Requiem

I do wish Casca had more to her character than being seemingly perpetually in danger of being raped
jonuiuc

Freaking Sweetness and Lightning has drawn more tears outta me than anything. Cept maybe Grave of the Fireflies.(edited)
Requiem

Like, rape around every corner in Berserk
Wake up, have breakfast, watch out for rape
ShadowHaken

Raperserk...
Man that could be a good name for an Ero-Doujin
jonuiuc

I think a lot of people feel that way Req. It's like you see her in Golden Age as one of the most legit female characters and then....
Requiem

Then baby-brained rape magnet
ShadowHaken

Yeah, it is truly shocking... And i would like to have her back, at the very least in a way, like now being a 10 years old mentality or something like that...
jonuiuc

I didn't imagine her voice to be how they are doing it in this anime. But it worse I guess.
I remember someone making the observation, basically Casca began serving Griffith when he saved her from being raped. And by doing what he did, he took all those years away and she returned to being a child.
It's not pretty; but it's still Berserk.
ShadowHaken

So let´s wrap it up.
jonuiuc

Guh. The only series where the main 3 characters have been sexually abused.
ShadowHaken

K... So any final thoughts?
jonuiuc

I'd like to apologize to everyone for missing my article last week. Was just busy in real life land.
Please don't judge Berserk on how this show looks. Go back and watch the original anime and maybe even the new movies if you can't watch old thing. But really get your eyes on the manga.
ShadowHaken

Berserk 2016 for me it´s an anime that I can say it´s Good... Although ultimately it has some big flaws that truly hinders the experience... Also the "Hai Yo" song it´s truly good!
And the Manga it´s WAY better than the anime
Requiem

I stand by what I wrote in the Summer Collab. It's not pretty, but it's still Berserk.
Gugsy

Oh yeah
The OP has grown on me a lot
I had it in my head for a few days straight last week
jonuiuc

The Ed's grown on me a lot. I feel the animations lazy in it though.
Gugsy-

I also stand by what I wrote in the Collab
Requiem

I just love that theme they play over the next episode preview
Gugsy-

It's fucking terrible looking, but it's Berserk

jonuiuc

Heh, I'm so glad you guys wrote the collab. I'm burned out writing about this series. Only Shadowhaken endures.
ShadowHaken

Ok... Then that´s all Folks and if you read all of this then a Big Thank you and see ya next time with the final Chapter!
jonuiuc

Band of the Haken adjourned?
Big Thanks to: Jonuiuc, Requiem, Gugsy and Kinsky. You Guys rock!