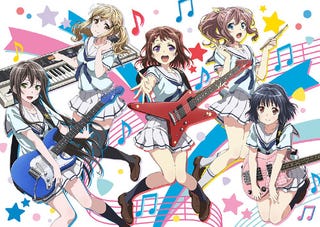 Based on the Bushiroad´s IP it will come in 2017.
The official website of the BanG Dream! project has announced that an Anime is in the works, the IP has had Manga adaptations.
The IP is about girls who play instruments and their voice actors are people who also play such instruments.
The Band members are:
-Aimi (Kasumi Toyama) with the guitar and vocals.
-Ayasa Ito (Arisa Ichigaya) with the Keyboard.
-Rimi Nishimoto (Rimi Ushigome)with the Bass.
-Sae Ootsuka (Tae Hanazono) with the Guitar.
- Ayaka Ohashi (Saaya Yamabuki) with the Drums.
Via: Anime News Network