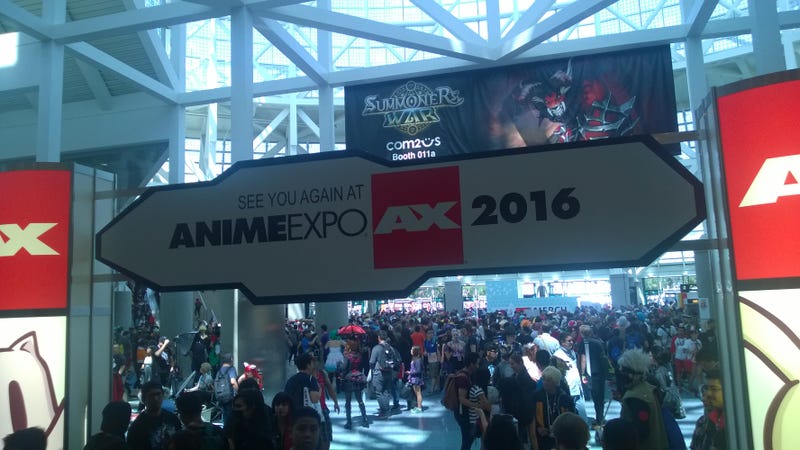 Note, this will be a long one, though its mostly pictures. Come on, it's the finale after all. Please try to read this in its entirety, it did take me a while to do this.
Well here we are, the final day of anime expo. Miraculously I survived. Here are my Real experiences on the final day.
It all started when I came across this guy, who I was meaning to take a picture with, since I saw him every day somehow. I'm not sure how I did not get this picture till the last day though.

Also, even though she isn't my waifu, he said she was also.
I should also say, that picture seemed to get the most attention out of all the ones I had. I apparently made many people cry, or about to cry due to remembering the feels. I legitimately spoiled it for some people (they even told me), and some people were monsters just like me and gave me a thumbs up or laughed.
I also noticed that Shenron is appearing to deflate. Probably losing power because he's been out of the dragon balls for a couple of days now.
Anyway, we arrived early and waited for the exhibit hall to open. Might as well enjoy the exhibit hall as much while we still can, so well be there exactly when it opens.
By the way, my cousin is an asshole. Who the hell farts in a large crowd of people?
Oh and the voice of Goku and the voice of both Vegeta and Picolo also passed by.
Anyway I started to walk the exhibit hall and saw many things...
---
Hold up...
You know what, I feel I have to take a minute and say this out right. Okay, I feel my coverage of AX has been a bit lackluster. I'm sorry about that. I'm just one person. If I was not so fiscally irresponsible and bought things like Kill La Kill Blu rays, and an extra Kill la Kill DVD I all ready have to get tickets to some autograph sessions ( a $330 value), I'd probably have had tickets to go to these events with my friend.
According to him, it was awesome. I apologize, probably could have covered and described these cooler events. Instead your stuck with a huge Trigger fanboy covering Trigger stuff. By the way, forgot to take a picture of this yesterday. It came with my purchase.
Yeah I admit, I probably could have done better, but my body was not ready. I apologize to everyone. I especially apologize to you Kevin. Evident from your comments, you seemed very salty. I'd like to help. You know what's good against salt? Something sweet. So how about you give my your address so I can send you something totally "sweet"(wow that sounds way worse than it did in my head)? But yeah something sweet, like?
Oh not sweet enough for you? Can't believe it? Then how about this
Yeah how about that? I totally redeemed myself from the failure that was Thursday. Enjoy it buddy, I had to go to the bathroom for about an hour, but I endured it for you. Before I continue on with my coverage, let me just remind you this (even though it is very egotistical and very much unnecessary).
Devin Real does what Devin Real does not for Devin Real. Devin Real does, what Devin Real does because Devin Real is Real.

---
Huh. Now that's out of my system, lets continue shall we.

May the light of Zvezda shine across the world.
Uhhh. What kind of club is she in?
The Sentai Booth? More like the Senpai booth. No seriously, they had looping audio playing of people chanting. "Senpai! Senpai! Senpai!"
The hall was exceptionally less crowded and quite easier to navigate through. Most likely due to it being Sunday.
For some reason, he was everywhere around the expo.
Here's some other stuff around the exhibit hall (a.k.a Heaven)
Who the hell words buy 2 get one free like this? Took me a good 3 seconds to process.
Apparently, according to my friend this is F2P Fire Emblem that's actually really good. He plays the Japanese version.
...............
Who would buy figures of actual art? Who is this aimed towards?
On a splurge, me and my friends bought these.
What you got was random. He wanted Yayaoi, but got Takane instead. Guess what I got?
Anyway, before I get to the closing ceremony, let me show you some last minute stuff of stuff I also saw around the convention.
---
Last Minute things
There was a really interesting exhibition by Good Smile company.
Why do I feel like that in those one, maybe two, open spaces, there should be something there?
That's one legit Saber Nendoroid. Too bad it was sold out at the booth.
Why you disrespect best girl Charlotte?
This was another cool thing. There was this exhibit that was basically a history of video games. It had information on every single video game console ever, and actually had them playable.
This has nothing to do with anime at all. Just passed this on way to convention. I need a place to vent my annoyance with this picture.
Three things wrong with this picture.
He jumped over the hood, not the car okay. Took some artistic liberty with the rendition of this moment I see?
Where's Baron Davis?
The way the picture is set up, it looks Blake Griffins going to land on the car, not jump over it.
Here is some other cosplay.
A very handsome Prince.
You know what, screw it I'm tired, I'm not even going to organize this anymore. Here's whatever at the expo.
---
Closing Time
Anyway on to the closing ceremony. While waiting in line, I could hear the Evangelion celebration. Luckily it was when they were doing Cruel Angel Thesis. Anyway, the closing ceremony in my opinion was okay. Kind of underwhelming if you ask me. I know people worked hard on it, but I did not feel too much hype. Basically, they got all of their Guess of honor on stage, talked about and remembered some of the people who were influential that died in the anime community recently (may their souls rest in peace), and had some band called (I believe) Alice Underground play.
The band was not bad, just a weird type of group for an anime convention. Their music reminded of something from the forties, but also some other things. It was hard to identify the genre really. They were okay. They did play Cruel Angel Thesis and Tank! and the end though, which sounded pretty cool. As a last surprise they had Yoko Takahasi come up on stage do some tradition they usually do after every Anime Expo. I can't even remember what it was.
That was basically the closing ceremony. Again, to me underwhelming. It even felt like the crowd was also under whelmed. The Little Witch Academia premiere audience had more energy, and that event took place in the same room that this closing ceremony did. I'm pretty sure they also somehow made the room bigger for the closing ceremony than they did for the premiere. Anyway, they ended with playing a video thanking everyone who attended.
Final Thoughts:
Despite feeling tired most days, it was a memorable experience. My favorite part of it was definitely day 2 (Friday). I only wish I had more money to spend (at a convention you never have enough). In retrospect, it might have actually been fun to go to a ticketed event. For example, my cousin and I were considering on going to a maid cafe, which is an extra $25. Well actually I also thought maybe it would be even funnier if me and my cousin decided to be idiots, and instead buy tickets to the butler cafe. How great would that be? The convention was fun. I saw a lot of awesome cosplay, attended some interesting panels, saw Little Witch Academia, bought Little Witch merchandise, played games, and did many more things. I'm kind of sad it over, but glad I finally get to rest my body. Anyway, stay tuned as I will write a quick guide for tips on conventions while the information is still fresh in my mind, so look out for that. Anyway, this was devinreal, now if you don't mind I'm going to rest. Later.
To be continued? Probably.