Last week in both the anime and manga, Youji and the 3rd Recon team explored further into unknown territory and came across a fire dragon burning a settlement to the ground. They searched the settlement for survivors, but found none...except for an elf girl in the town's well.
"Aren't I a great humanitarian guy?" "I was thinking more along the lines of 'you have some...odd tastes.' " (Paraphrasing, but still hilarious)
The comedy bits are funny and well used to show that the JSDF soldiers are normal people too.
Remember, when you're using a shoulder fired rocket, safety first kids.
GATE actually has a great recap. I know that "great" and "recap" do not generally mesh well next to each other, but it was 20 seconds at the very beginning of the show that hit the big points just enough to jog your memory. I'm not a fan of recaps, but if shows feel the need to give a recap, this is the style they should be in - quick, broad, and easily skippable (like my recap paragraphs in these posts).
The dragon's design was pretty awesome. It was CG with pencil shading overlayed onto it, which made it easier to animate, but didn't make it stand out as completely different from its surroundings. It was hard to get a shot of this (because the dragon as a part of the story wasn't as great as its design due to the brevity of it's appearance), but if you look at its neck and bottom jaw, you can see the pencil lines.
Both the anime and manga acknowledge the great losses from the battle on Alnus Hill through lines about the lords of Coda Village never returning. This suggests another possible reason why the JSDF soldiers were all for going above and beyond just helping the civilians. Where the anime stands out is simply a benefit of the medium - it can have music to help set the tone of the conversation.
Meeting Rory, Lelei, and Tuka totally renders Youji's "vision" thing in episode 1 pointless because he doesn't recognize the girls when he sees them. Not even a "huh, so that's who those people were." Maybe it was to show people who were on the fence about watching that there were more fantasy elements to it in the future. This can be rolled into the continuing problem of trying to make the adaptation for a wider audience and cutting the legs out from under the big moments.
The language thing. Make it a big deal or even handwave it away, I just want you to explain it. It should be a major point since they are in a different world, and it should be emphasized as such. (More on the translation dictionary Youji is holding in the manga section)
Some of the translation choices have been poor: "Emloy" instead of "Emroy," "Alnus" as "Arnus," "Death God" instead of "Reaper" (Rory isn't a god, she serves the death god), etc. At least Rory is Rory. L's and R's are easily confused based solely upon sound (because they are essentially one sound in Japanese), but seriously, Rory being called a god is just wrong. Shinigami does not mean a god every time it is used.

This is just poor shot composition/angle that makes it look like Rory's halberd is on top of Tuka, which would crush her because of its immense weight. The halberd doesn't move when Tuka turns her head, so we know it's not even though it still looks like it's on top of her.
Really?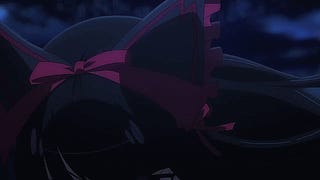 A major flaw in the anime is that it doesn't flesh out Rory's character as much, nor her power and intimidation factor. Yes, some things have to be sacrificed in the adaptation from manga to anime, but that is a pretty important thing to establish (especially since they condensed an entire chapter into just 2 minutes). Another instance of confusing a confusing shot was the "shoulder fired rocket & halberd course-correction" scene - it actually was the same as the manga, but on first watch it looked like the halberd redirected the rocket, not the dragon. On closer inspection on a re-watch of the episode to get screenshots, I figured out that it actually made the dragon stumble like in the manga and was just poorly conveyed visually.
A whole chapter of Rory. Rory Mercury, a Reaper, is crazy strong and powerful. Do not mess with Rory. It will not end well for you.
[Insert "people die when they are killed" joke here]
But seriously, this is not some small wyvern to be trifled with. This is a dragon. It is a monster. People die. It's a bad time.
Again, the manga makes each situation feel like more is at stake because of the more realistic violence. The part with the dragon makes the dragon a much bigger threat, instead of "yeah there's a dragon breathing fire and people screaming and running, but nobody is really getting hurt" - it's a "so this is how we die" moment. It's not a lizard, it's a dragon - DRA-GON. It doesn't do that tongue thing.
We get to see more about Lelei, not through more scenes or actions, but through the thoughts in her head. In the anime, we only hear "Oh, these people saved me," but in the manga we see her full train of thought throughout her appearance, establishing her as a character who is intelligent and thinks things through (as a mage should be). In the anime she just seemed like a quiet, dry character.
The manga also has a backstory about what went down during the dragon attack on the elvish settlement and how Tuka ended up in a well unconscious. Funny enough, she wasn't unconscious until her soon-to-be rescuers knock her out with a bucket thrown down to get water.
The language thing still wasn't great in the manga (Tuka in the humvee is a good part, though). It isn't addressed well, just like the anime. Yes, Youji has a translation book, but how did they get that so quickly? Did the villagers know Japanese, or the JSDF know whatever language the villagers speak? No, so it would've taken a long time to put together a repository of words and their translations, as well as learning the pronunciations.
This episode really picked up the pace adaptation-wise, going from 1:1 to 4:1. It felt fine considering just the anime, but with the manga you realize how much is lost. It isn't doing anything wrong, but it does some things poorly. There was a lot of character development that was skipped, which gives Tuka, Lelei, and Rory weak entrances into the show. One thing that the anime is doing great with, though, is the interactions among the JSDF soldiers themselves. Character development aside, I still have to state my one continuing major complaint about the adaptation - it lacks the weight and seriousness of events that the manga has. For the first two episodes, I would say they were equal to their respective manga chapters, but I would definitely suggest reading the manga for the material covered in episode 3. I feel that it may start to slide more and more towards that general conclusion to the comparison as the adaptation goes on and probably keeps this new 4 chapters to 1 episode ratio.

---
AnimeGATE is a series on experiencing an anime and its manga source material simultaneously. But really, "it's about ethics in anime adaptations..."