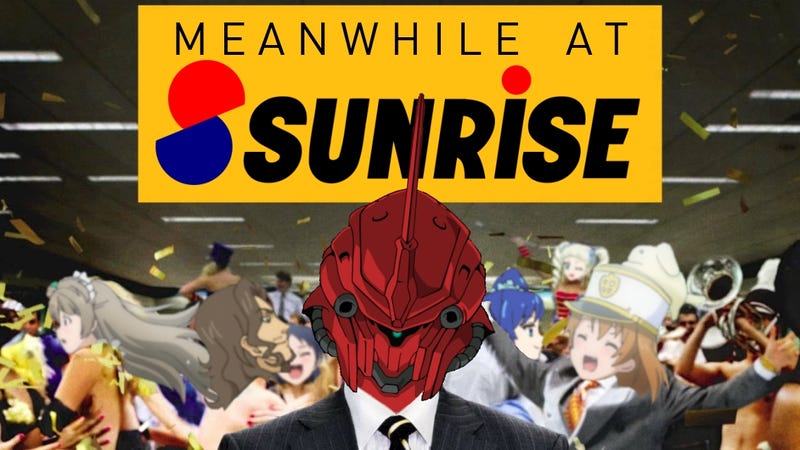 N.B, at the time of writing, this picture is relevant (it probably will stay relevant for ever since Sunrise always find a way) at the time of writing this, when I saw this special figure *92位/***,*96位★ (*12,364 pt) [*,*45予約] Gundam G Reco (this could be false information fed to me) Also thank Richard for our episode title.
On another note, IT'S EPISODE 8 guys!! My lord so close to double figures, because apparently double figures hold high significance! Ahh seasons changed and it's already November, don't know about you but it's also much colder as well. So let's see…..oh yeah the Ani-Tay podcast episode 8 features the amazing mdubs! Who's written a lovely little piece here about cliché love story, give it a read it's worth your time. As usual it's your reoccurring cast of Me (FruityDrinks), Richard, David (dexomega) and Kevin (rockmandash12) making our scheduled appearance as well.
This episode we discussed some fun shows that are airing this season to freshen things up and keep up with the new change of the season, while closing off a major arc in Sword Art Online II.
Sword Art Online II (Gun Gale Arc, I always read that as Gun Gal)
Parasyte
The Lord Marksman and Vanadis
Trinity Seven
Your Lie in April
Now I'm sure we've all had our own opinion on certain anime. Saying various things on why it's amazing, or why it's horribly bad. We thought instead of that tried and true method (that and we did it in the earlier segment in the episode). We've decided to be proactive about our criticism and dipped our toes in the realm of fan fiction. (Hardly) We all picked separate shows and thought about ways on how to improve them, with certain changes to the plot or characters, maybe a new spin on an arc? With that in mind normally I do the second segment as an open topic but sadly things imploded all over my face and nothing went to plan, so instead you can post them here, but only after hearing our quick fix to make any anime amazing. At least you'll understand why.
The chart below as always depict what we are all watching!
Here's the chapters thanks to David
Intro: 00:00:00 - 00:05:01
Sword Art Online 2: 00:05:02 - 00:26:55
Parasyte: 00:26:56 - 00:38:08
The Lord Marksman and Vanadis: 00:38:09 - 00:51:17
Trinity Seven: 00:51:18 - 00:57:35
Your Lie In April: 00:57:36 - 01:08:43
End of Segment One: 01:08:43 - 01:13:34
Richard Signs off for the Night: 01:13:35 - 01:14:21
Segment 2 Intro: 01:14:22 - 01:14:44
Kevin's (Rokujouma): 01:14:45 - 01:19:03
David's (Nisekoi): 01:19:03 - 01:22:14
Matt (Golden Time): 01:22:15 - 01:27:12
Ken (Golden Time): 01:27:13 - 01:33:05
End of Segment 2: 01:33:06 - 01:36:20
Bonus Segment: Supporting the Industry: 01:36:21 - 01:46:10
Nozaki-kun and Sign-off: 01:46:11 - END
As always you can subscribe to us on iTunes here
Or download the mp3 for all your other devices and needs (Right click, save link as) here
You can also subscribe to our RSS feed here