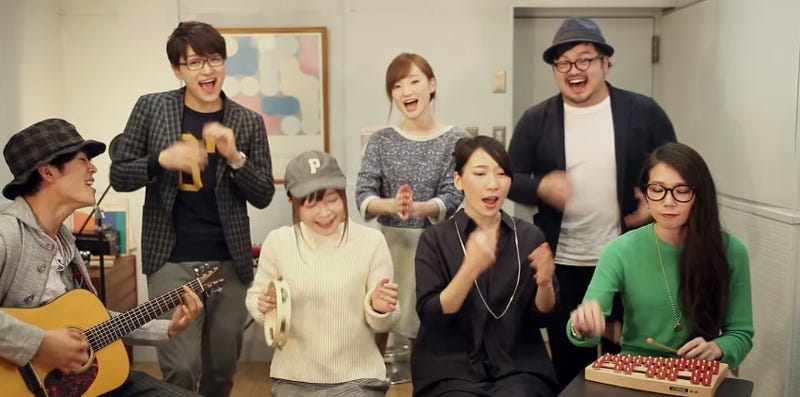 Welcome to the seventh meeting of Ani-Kei, Ani-TAY's official fanclub for Goose house member Kei Takebuchi and Goose house as a whole! This is the best place to highlight the best covers featuring Kei and Goose house or anything related to Goose house in general. We hold meetings every now and then, so feel free to call one if you feel called to do so!
New to the club? Read what it's all about here! New to Goose house? Read what they are all about right here!
The last few weeks have been very eventful for Goose house fans, with the release of Milk and Bitter on February 25th as well as the live performance at Youtube Space Tokyo and ustream #47 being particular highlights!
In other exciting news, Hikaru Nara by Goose house recently won OP/ED of the month on Ani-TAY's OP/ED A Day feature. It will be moving on to face off against the winners of all the other months at the end of the year.
This Meeting's Feature:
Domino Effect - Goose house
Domino Effect is one of my favourite new Goose house tracks and is the second track off of Bitter. I particularly love how upbeat this song is and the vocals give it a vintage kind of feel, which reminds me of bubble-gum pop style songs from back in the 1960's and 1970's. Very neat song!
Upcoming events for Goose house include ustream #48 which will be airing on Saturday March 28th at 20:00JST (7:00am EST) and their performance at the Shigatsu Wa Kimi No Uso finale event on April 6th. Look forward to them!
Goose house is also going on tour! To celebrate the release of Milk and Bitter the Goose house Live! Tour will be visiting several cities in the coming months. You can find more information here.
As usual, hello to all our friends in Indonesia finding this entry from Ani-Kei friend @HousemateID, you can follow him on twitter.
Remember, Milk and Bitter are now officially out! You can find them on iTunes as well.
Did you miss ustream #47? You can find my recap for it right here, which has been updated to include the official uploads of the songs to Youtube.