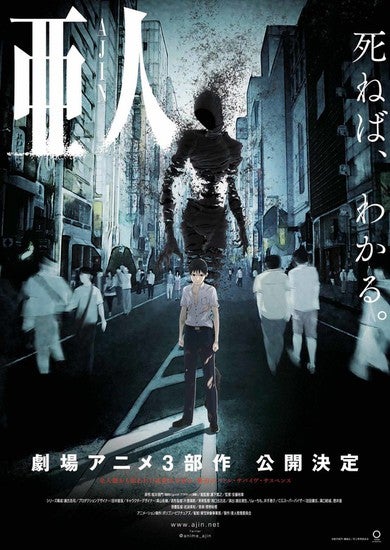 We know that an Anime Movie trilogy is coming, but an Anime Tv Series is also coming
On the official website of the Movie trilogy of this series it has been announced that an Anime adaptation is also in the works.
The Staff will be the same from both the film and the anime, which make me think that it will follow a similar rute as the Attack on Titan series.
They also released anothe promo back in July BTW.
Based on the Manga of the same name, Ajin- Demi- Human tell us the history that 17 years ago an "Inmortal" person was found on an African battlefield. After that incident, more and more of those Inmortals have arised, and the people started calling them <<Ajin>> (Demi Humans). On Japan, a High School Student called Kei Nagai suffers a horrible traffic accident that would have taken his life, but then he discovers he is an Ajin, so he has a price on his head. And so it starts his runaway story.