Decade In Review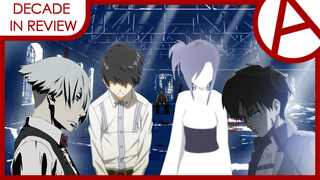 Decade In Review
AniTAY takes a retrospective on the decade with everything from our favourite moments to remembering how culture evolved.
Anime theme songs span further than the fast-paced, the upbeat, and the energetic. Some of the greats are occasionally slower and mellow, yet still powerful. Let's reminisce 25 of the most serene openings and endings this decade.
In no particular order, here we go.
---
Tanaka-kun is Always Listless OP
Season: Spring 2016 | Title: Utatane Sunshine | Artist: Unlimited tone
Tanaka-kun's OP is a great way to start off this list. It perfectly defines serenity.
---
One Punch Man ED

Season: Fall 2015 | Title: Hoshi yori Saki ni Mitsukete Ageru | Artist: Hiroko Moriguchi
Everyone knows the opening theme when they hear it, but did you know the ED was also catchy?
---
Grimgar of Fantasy and Ash ED
Season: Winter 2016 | Title: Harvest | Artist: (K)NoW_NAME
A lot of the slower themes have simple visuals. This one is no exception, but it only amplifies the beauty.
---
91 Days ED
Season: Summer 2016 | Title: Rain or Shine | Artist: ELISA
Themes with no lyrics are rare, but there are a couple on this list. This is the first one, and it's great.
---
KonoSuba ED
Season: Winter 2016 | Title: Chiisana Boukensha | Artist: KonoSuba Cast
This was a hard choice between the first ED and the second ED. listen to the other one as well, for sure.
---
Mushishi Zoku Shou OP
Season: Spring 2014 | Title: Shiver | Artist: Lucy Rose
The main series may not have aired this decade, but the simplicity of this OP is unmatched.
---
Yona of the Dawn ED
Season: Fall 2014 | Title: Yoru | Artist: vistlip
---
Haikyuu!! ED 2
Season: Summer 2014 | Title: LEO | Artist: tacica
An ED this slow is unique for a sports anime, but it works so well.
---
A Sister's All You Need ED
Season: Fall 2017 | Title: Donna Hoshizora yori mo, Donna Omoide yori mo | Artist: Aira Yuuki
Forgive me, this was the best video quality I could find for this ED. The music quality is still good though and the guitar is chill as hell.
---
The Pilot's Love Song ED
Season: Winter 2014 | Title: Kaze ga Shitteru | Artist: Akai Kouen
This one is more unknown, but the emotion is bursting at the seams. Also super underrated show, in my opinion.
---
Laid-Back Camp ED
Season: Winter 2018 | Title: Fuyu Biyori | Artist: Eri Sasaki
Most of these theme songs can be described laid-back, so it only makes sense for "Laid-back Camp" to make the list.
---
Flying Witch OP
Season: Spring 2016 | Title: Sharanran | Artist: miwa (feat. 96 Neko)
For this OP it was a tossup between including it in the light-hearted list or this one. Either way it's one you need to hear.
---
Just Because! OP
Season: Fall 2017 | Title: over and over | Artist: Nagi Yanagi
For me, the OP of Just Because! was the saving grace. If the show itself missed some of the emotional marks, the emotion was amplified by the OP.
---
Non Non Biyori OP
Season: Fall 2013 | Title: Nanairo Biyori | Artist: nano.RIPE
This was another theme that could have been included in the light-hearted article, but I placed it here because the show embodies tranquility.
---
Kokkoku ED
Season: Winter 2018 | Title: Asayake to Nettaigyo | Artist: Boku no Lyric no Bouyomi
NSFW.
---
Assassination Classroom ED
Season: Winter 2015 | Title: Hello, shooting-star | Artist: moumoon
This ending is so peaceful in contrast to the plot of the anime.
---
Kamisama Kiss OP
Season: Fall 2012 | Title: Kamisama Hajimemashita | Artist: Hanae
Both of the OPs for this show are sung by the same artist and both have such a peaceful feel.
---
Amanchu! OP
Season: Summer 2016 | Title: Million Clouds | Artist: Maaya Sakamoto
I recommend this show if you're a fan of Aria. If you haven't seen Aria, then I recommend Aria.
---
One Week Friends ED
Season: Spring 2014 | Title: Kanade | Artist: Sora Amamiya
This is one of those EDs that can make you cry every time.
---
Parasyte -the maxim- ED
Season: Fall 2014 | Title: IT'S THE RIGHT TIME | Artist: Daichi Miura
This ED complements the show so well despite the thematic differences.
---
After the Rain ED
Season: Winter 2018 | Title: Ref:rain | Artist: Aimer
Every single one of Aimer's songs is amazing.
---
My Love Story!! ED
Season: Spring 2015 | Title: Shiawase no Arika | Artist: LOCAL CONNECT
When they show Rinko the shivers come out.
---
In Search of the Lost Future ED
Season: Fall 2014 | Title: Ashita Mata Aeru yo ne | Artist: Hatsumi Takada & Akane Tomonaga
Probably the best visuals on this list.
---
Beautiful Bones ED
Season: Fall 2015 | Title: Uchiyoserareta Boukyaku no Zankyou ni | Artist: TECHNOBOYS PULCRAFT GREEN-FUND
---
Asobi Asobase OP
Season: Summer 2018 | Title: Three-Piece | Artist: Asobi Asobase Cast
This theme makes you think the cast are an innocent group of high school girls. Heh
---
Space Patrol Luluco ED
Season: Spring 2016 | Title: Pipo Password | Artist: Teddyloid (feat. Bonjour Suzuki)
This anime is short and sweet, but that doesn't mean it can't have a great theme song.
---
Rakugo ED
Season: Winter 2016 | Title: Kawa, Taredoki | Artist: Kana Shibue
Rakugo is another show that defines serenity and tranquility. I can't recommend it enough.
---
Thank you for reading!
Let me know if I missed any of your favourites!
---
Here's last week's list!
---
Join us!
You're reading AniTAY, the anime-focused portion of Kotaku's community-run blog, Talk Amongst Yourselves. AniTAY is a non-professional blog whose writers love everything anime related. To join in on the fun, check out our website, visit our official subreddit, or follow us on Twitter.