Decade In Review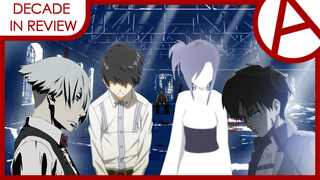 Decade In Review
AniTAY takes a retrospective on the decade with everything from our favourite moments to remembering how culture evolved.
2018 was the best year of anime this decade.
Not just in the sheer variety of shows, but in how those shows comment on and interact with each other and, together, represent what makes anime so special. Many of our previous Decade in Review pieces took a season-by-season look at the major shows and the broader landscape of the medium. This will not be like that. We're going to jump around the year, hitting both the biggest shows of the season and ones that resonated with me the most. With that preamble out of the way, let's get into what made this year so fantastic.
Note: there will be spoilers for the various shows I discuss. Proceed with caution!
---
2018 marked the end of the last year of my first university degree: Bachelor of Arts (Honours) with a major in English. Looking back, I view the year as a liminal time – even though I knew I was entering my Masters that fall, life still felt uncertain, and my future (still) remains unknown. Graduating from university is a momentous occasion not just because it is the culmination of years of hard work but because it beckons with it the entire world. Where do we go when the paths before us are infinite?

Violet Evergarden answers this question by pairing its testament to writing and language with an exploration of how we react to and navigate a fundamentally foreign world. Violet begins the series in a similar way as I entered 2018: terrified at the freedom of a new beginning. Through writing for others and, thus, herself, she manifests purpose and, more importantly, her independence. Each episode explores the various ways that we live through and for others – a mother's everlasting love, the unbreakable bond between siblings, and a soldier's last wish all reinforce how we survive because we are not alone. It is language that ties Violet Evergarden's disparate narratives together into something poignant. Almost two years later, I still have trouble accurately conveying what makes Violet Evergarden so special for me. Maybe it is because I, too, am a writer. My last few essays in my Bachelor's degree followed similar themes: the death of the nuclear family, moving past mourning, the critical freedom of the reader - all analytical works that involve moving beyond grand narratives, beyond prescribed roles, and beyond personal struggles in the pursuit of a freer future.

My Hero Academia's third season echoes how Violet Evergarden discusses the future through its key episode, "One For All." Say what you will about the larger series, but "One For All" is an outstanding exploration of the burden of legacy and tragedy of knowing one's future. All Might's last fight against All For One is undoubtedly a spectacle, but it is in the aftermath where the episode finds its emotional resonance. In All Might's silent message to Izuku that it is time to become the next symbol of peace, My Hero Academia exemplifies how embodying legacy and becoming a hero is both a herculean task and the greatest burden one can carry. Like Violet Evergarden, MHA understands how individuals react to the sudden knowledge, or lack of knowledge, about one's future. That understanding resonates with me as a perpetual live-in-the-moment type of person. I cannot look too far into my future for fear of heading down a predestined, unsatisfying past. I prefer to navigate my way day-by-day, each fork in the road an opportunity rather than a definitive choice. Izuku's tears at the end of the episode impact me in much the same way as Violet's near the end of Violet Evergarden: the burden of legacy, of knowledge, of the future, is overwhelming, terrifying, and absolutely electrifying.

Where Violet Evergarden and MHA offered emotional highs and explorations of the future, shows like Hinamatsuri, Mitsuboshi Colors, and School Babysitters presented alternative takes on animated comedy that, despite their appearances, crafted compelling narratives of togetherness. Anzu's narrative of found families in Hinamatsuri was undoubtedly the series' highest point (in a show full of highs). Being an only child, many of who I consider family come from beyond blood: classmates, coworkers, and now online friends from AniTAY. Our support systems are more substantial than who we share blood with, and those bonds are often stronger as a result. Anzu's time as a vagrant is an affecting portrayal of how our inherent disparity creates the space for connection to prosper, and her adoption into the elderly ramen shop owners' family furthers this idea. Hina and Nitta, too, come to form a tenuous daughter-father relationship because of their differences and how they bring them together. Mitsuboshi Colors' Yui, Sat-chan, and Kotoha reflect Hinamatsuri by pairing unadulterated childhood joy with the antics that come from three very distinct, but very tight-knit, girls. Yui's role as the straight-person, Sat-chan's inherent wildness, and Kotoha's quiet, blunt demeanour work not only as a comedic trio but as a testament to the profundity of childhood bonds. Likewise, School Babysitters' pairing of the chaos of daycare with a heartfelt depiction of brotherhood and grief take what could have been merely an all-cute-no-substance slice-of-life and gives it the necessary depth, heart, and hilarity to make it something memorable and noteworthy. Together, these three shows emphasize how laughter brings us together in ways that other actions cannot. In sharing their unfiltered joy alongside family in all its forms, Hinamatsuri, Mitsuboshi Colors, and School Babysitters comment on the uncertain future of MHA and the hope of Violet Evergarden by emphasizing how everything will be okay, everything will work itself out – we just need to laugh along the way.
Though my personal life in 2018 was not the grand return to romance I had hoped for, one of 2018's most criminally underwatched shows gave me hope that love is still real. Akkun to Kanojo (My Sweet Tyrant) is one of my favourite short anime of all time. With twenty-five episodes at three minutes apiece, the show never overstays its welcome but leaves a lasting impression nonetheless. Watching Nontan and Akkun interact, with the latter's tsun side slowly giving way to dere at the mercy of the former's cuteness, is forever endearing and undoubtedly the heart of what makes the show great. Rarely is it that an anime explores a high school couple after they start dating, further adding to the show's appeal. Add in a supporting cast of hopeless, lovestruck, or in-denial romantics, and Akkun to Kanojo earns its status as 2018's best short, most criminally underwatched series, and the work that reminded me that love is alive.

As I mentioned earlier, 2018 was a year of liminality for me. No anime this year better embodied liminality than Bloom Into You. Ending right in the middle of a crucial arc, the blatant "read the manga!" ending, though not discrediting the outstanding series, leaves a poor but thematically potent taste in my mouth. Something rotten but strangely tasty, I suppose. The final arc of the anime involves Touko struggling with the realization that everyone, including herself, is not entirely who she imagines them to be. It manifests as a personal stasis, an inability to reconcile her disparate parts into a whole person. Yuu, however, assures her that it is because we are disparate parts that we become who we are. Just like how we come together because of our differences, we also embody ourselves because we are not and can never be whole. The anime ends as Touko appears to take Yuu's words to heart: we don't have to sacrifice who we are to become someone else. We are perpetually someone else, and that is what makes us individual. As someone who struggles with "being myself" amongst different groups, Bloom Into You's central theme resonates as especially pertinent. It is okay if I act differently around my parents or my friends, my coworkers or my classmates; each version of me is still me and will always be me. Everything is always liminal, in flux, or changing. Though the ending of Bloom Into You is frustratingly unsatisfying, it also works thematically by leaving the world open for Yuu, Touko, and the viewer, as transient as we inherently are.

Speaking of being empty inside, let's look at some of 2018's worst shows! Because, even though the year brought some of the highest highs this medium has seen, it also brought possibly the lowest lows in Conception, Island, and My Sister, My Writer. I won't say too much on these since a select few of us have written plenty here, but Jesus Murphy alive, these shows are awful. Conception is an exercise in how far a show can take a premise while still taking it absolutely nowhere, Island is a textbook example of how not to do a visual novel adaptation (though I doubt this is purely an adaptation problem), and My Sister, My Writer is, just, fuck, man. As bad as these shows are, and believe me they are, I also found myself oddly appreciating them as I do most trash. I still honestly believe that bad anime has inherent merit both as a way to appreciate good anime and a chance to fully turn one's brain off and just embrace the madness. Conception, as insane as it was, kept me engaged because I wanted to see how stupid it could get and My Sister, My Writer's production disaster had me guessing just how bad the next episode would look; Island, however, is just bad – never watch Island. I still watch bad anime when I can because of some sick affliction and a duty to a higher calling, but 2018 remains possibly the peak of my history with the trashy side of the medium.

Determining the worst anime of the year is difficult; hell, a group of AniTAYers dedicates themselves to that task every few months. Determining the best anime of the year is an even more arduous task, and it's one I've found myself struggling with more and more as I've matured. What makes something The Best? What makes it The Best for me? As my faith in "objectivity" has wavered to the point of complete disbelief in the concept of detached criticism, the best anime of the year often comes down to what I see both embodies the spirit of the medium and resonates with me the most on levels both emotional and analytical.
Violet Evergarden is a strong contender, of course, as was Hinamatsuri. So too were Run with the Wind, a passionate, character-driven look at how teamwork can act as a crucible for mutual growth, and Cardcaptor Sakura: Clear Card, the triumphant, if uneven return of one of my most treasured media franchises. There were also Megalo Box, a tribute to everything that made 90's anime stand out, the outstanding Monogatari-Oregairu lovechild Rascal Does Not Dream of Bunny Girl Senpai, and Laid-Back Camp, potentially the comfiest and warmest show of the year. And god, how could I forget Katana Maidens, Tsurune, Devilman Crybaby, and Iroduku: The World in Colors? Finally, I have to give a special mention to SSSS.Gridman, not only because it was my first real contribution to AniTAY, but because it has cemented itself as my favourite Trigger work. I reiterate: 2018 was anime's best year of the decade and very possibly one of its best years ever. All these shows embody what, for me, makes anime special. But, for whatever reason or another, they landed just shy of "the best of the year."
One little-known fact about me is that I love stage performance. Musicals, concerts, plays, improv shows, you name it, and there's a chance I'll either enjoy it or give it a shot. Hell, I even played the Monkey King in my high-school drama club's performance of The Jungle Book. Shoujo☆Kageki Revue Starlight is simultaneously a love letter to and a scathing critique of Japanese Takarazuka performance and the stage more generally. Taking liberal influence from Kunihiko Ikuhara's style of deliberate repetition, countless symbols and extended metaphors, and avant-garde approaches to filmic and animetic storytelling, Revue Starlight's remarkable direction has cemented Tomohiro Furukawa as my favourite up-and-coming anime director. Moreover, the show's deconstruction of the inherently destructive and combative nature of Takarazuka – in which one female performer reigns supreme as the Top Star – resonates as eternally culturally relevant. Karen's wish to stand upon the stage alongside, not above, her fellow performers is a poignant rebuttal to the notion that performative art in general needs a "top star," a central figure.
More striking, however, is how Revue Starlight implicates and critiques the very act of watching art. The show's giraffe character remains a perplexing, yet intriguing figure. With the last-minute reveal that he is a stand-in for the audience and our insatiable expectations for something more, Revue Starlight suggests that the most destructive part of performance is not in the space between the performer and the stage, but in the space between the performer and the audience. We are the creators of the stage and its ultimate destructors, unsatisfied until we receive what we deem to be the "best" ending.

As someone who wants to make his living off analyzing media – film and anime, specifically – Revue Starlight strikes me in how it actively invites criticism and then criticizes back. Our endless pursuit for narrative perfection, for deep and enriching stories of growth, death, and rebirth ultimately dictates the art itself. Revue Starlight is my favourite anime of 2018 from a narrative and thematic standpoint through how it pushes the boundary of what anime is and who becomes the arbiter of art. It takes the themes of togetherness and legacy in Violet Evergarden and My Hero Academia and, in many ways, reconstructs them: through togetherness, we can destabilize the legacies that bind us.
The show that most impacted me, however, requires us to return the year's beginning. 2018 revolved around the interplay of personal and collective growth, how we reconcile with a fundamentally unstable self amidst an everchanging world, and how our bonds with others sustain that reconciliation. As Violet Evergarden was exploring these themes through the lens of the fear of freedom and the impacts of loss, another show furthered this notion by taking us to the ends of the Earth. It is there, in the ice and snow, that we find what we need to begin that movement beyond the Earth's end – to A Place Further than the Universe.
A Place Further than the Universe is a show of catharsis. It is about the costs of catharsis and the interrogation of what comes after. For Himari and Shirase, it is the lack of a definitive answer that marks personal progress. It is in its conclusion that Universe best embodies what makes 2018 so special. In reconciling with her late mother, in finding the laptop full of unanswered messages, Shirase finds the closure she needs to move forward. The process itself is painful, symbolized by the incredible journey she and the other girls undergo to arrive where they need to be. Along the way, we discover and rediscover ourselves, how much we've lost along the way and what fills in those new spaces. By Universe's finale, those spaces remain open. Himari, Shirase, Hinata, and Yuzuki grow into genuine friends, but their personal journeys remain very much in their infancy. We are always already at the precipice of something else, and Universe reminds us that that is okay. It is the reassurance I needed when it aired, and it is the reassurance I need now. Rather than see perpetual liminality as something unsatisfying, A Place Further than the Universe asserts it as something admirable – it signals the space we need to become who we are.

I struggle to even write about A Place Further than the Universe. So rare is it that a show affects me on such a personal and emotional level that I have trouble distancing myself enough to examine why I love it so much. Yet, I think that's what the show's themes reflect. We can't distance ourselves from the things we truly love; we can't grow unless we directly and deliberately seek out and embrace what defines us. In that embracing, we flourish, we blossom, we begin anew. We travel to the end of the universe, and we go beyond. Himari's affirmation of "doing something amazing" and Shirase's reckoning with her grief illustrate the degrees to which we need to journey to beget genuine change within ourselves, but they also represent our inherent inability to separate ourselves from those things that make us. It is only after experiencing Antarctica, after "finding" her mother, that both girls can see who they were and who they are now. Their futures are unknown, as are mine and yours, but in that unknowingness is the same electricity that we find at the end of Violet Evergarden, in Izuku's tears, in Touko's self-fragmentation, and in a now-everchanging Position Zero.
Where do we go when the paths before us are infinite? In 2018, I didn't have an answer to this question. In 2020, I still don't. But I'm okay with that. 2018 was a year of reigniting my passions and embracing them with newfound and fervent love. I carry that love with me into writing this piece, into finding myself simultaneously beyond the universe and earthbound, knowing that I have further to go yet.

---
You're reading AniTAY, the anime-focused portion of Kotaku's community-run blog, Talk Amongst Yourselves. AniTAY is a non-professional blog whose writers love everything anime related. To join in on the fun, check out our website, visit our official subreddit, or follow us on Twitter.

If you enjoyed this article, consider following Reid on Twitter @TheMamaLuigi1 and checking out his other works here!
Finally, big thanks to NomadicDec, Protonstorm, Stinolez, Raitzeno, and Nior for looking this over. Your feedback was invaluable!