Decade In Review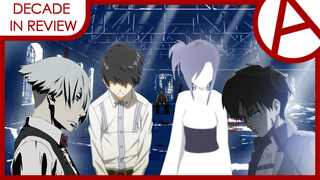 Decade In Review
AniTAY takes a retrospective on the decade with everything from our favourite moments to remembering how culture evolved.
In 2014, I wrote here on this very blog that the anime Akame ga Kill! had "masterfully humorous undertones." In retrospect, Akame ga Kill! was a tonal mess that didn't know how to balance moments of levity with its grimdark story. But the Protonstorm of 2014 had frankly never seen anything even remotely like Akame ga Kill! before and was enamored with both the series' anime-style humor and its over-the-top action sequences in which even the main cast's lives hung in the balance. My entry into the anime fandom exposed me to stories that I had never experienced before, and AniTAY served as a proving ground where I could develop my media tastes. By forcing myself to articulate my thoughts in a space where they would be critiqued by my fellow authors and random internet readers alike, I slowly developed a far greater understanding of what I enjoyed and why I enjoyed it, perhaps one of the greatest and most consequential developments in my entire life.

Reflecting on the articles I wrote in 2014 and 2015 is a unique form of torture that many of us likely experience when we look back at our own internet posting histories. To this day I have probably never written anything that I didn't find flaws with after publishing, but the articles I wrote during this time have the unique ability of reminding me just how much things have changed in the mere 5 years since. But the development of my writing voice and media-viewing lens would have been impossible if it weren't for the fortunate coincidence that I happened to discover anime in 2014. By the time the sun rose on January 1st, 2015, I was primed and ready for several anime that just happened to air that year that fundamentally changed the way I engage with media.
I want to take the space I have in this article to talk about some of my most consequential anime of 2015 and contextualize them a bit in the goings on in my life and at AniTAY during that time. Not all of these shows were necessarily the most famous productions of the year, but they did have the most impact on me personally and I feel that the shows I selected to talk about here are the ones I have the most to say about. 2015 was a huge year for me as I graduated high school and went to college, and it was also a big year for AniTAY. It's a bit mind blowing to realize that all these shows aired five years ago, but I think it speaks to their impact that each of them still feels so fresh in my mind all this time later. -Protonstorm
Before 2014, before AniTAY, I didn't like writing. I didn't think I'd ever write anything outside of school or work, but this blog changed that for me. Proton and I joined on the same day back in 2014 after responding to a recruitment article at the time – not too dissimilar from the ones we still put out today. Unlike him, I had experience with the anime world, and thought my sole contribution would be to help choose the seasonally "anime you should be watching segment". I initially had no intention or desire to write anything myself, but at the end of 2015 and after amassing over a million views in that year alone, I had surely proven myself wrong.
Reflecting on what I wrote in 2015, most of it was list-based and was largely absent of creative writing, but that was the style I grew into. While others shined by detailing their impressions and, analyzing plot points and symbolism, my goal was to draw you in with facts and guides (and humorous recipes). During this time, I gained a new enjoyment for writing that I never had before, and it's all thanks to this blog.
Similar to Proton, there are a few standout shows from 2015 that I'd like to touch on. These shows have directly affected me in some way and have stuck with me over the years. I might not have as much to say about them as Proton did with his selection of anime, but I hope you'll appreciate my reflection on them none-the-less. -Stanlick
---
Your Lie in April
Written by: Protonstorm
My entry into the anime fandom was slightly unusual in that I began by finding myself enjoying random j-pop songs that had shown up on my YouTube feed. These songs turned out to be anime theme songs, which ultimately led me to watching the original anime. All of this is to say that from the start I had a very strong focus on the audio content of the anime that I watched. Your Lie in April was thus a perfect fit for me: it follows middle school pianist Kosei, who stopped performing after his mother passed away a couple of years previous and is drawn back to music by a mysterious violinist with some secrets of her own. Your Lie in April's pre-broadcast advertising promised a very musically-oriented show, so I gave it a shot.
Your Lie in April is an auditory journey on multiple levels. The most obvious examples of this are the full-length classical music performances every couple of episodes. Music anime face a unique pacing challenge when it comes to live performances: skipping the performance would be anticlimactic, but if you play your cards wrong and just spend five minutes watching a person play an instrument, it can make the episode feel sluggish and drawn out. But the music that Kosei and his friends practice doesn't exist in a vacuum. The performances are truly emotionally climactic affairs. Sometimes they are moments for characters to express an emotional resolution, and at other times the performance itself is what gives the mental clarity to resolve a burning anxiety.
Your Lie in April's willingness to show the raw emotion of a person's relationship to music is double-pronged thanks to its incredible soundtrack by the talented Yokoyama Masaru. When viewers aren't witnessing the connections that characters are building to their own music, they are able to build their own. One of the reasons why the series' story sticks with me so strongly to this day is because of the vividness with which I recall scenes when a particularly memorable track played. Your Lie in April's soundtrack became an important soundtrack for my senior year of high school. I still fondly recall reclining on my parents' couch and listening to the soundtrack in the evening after finishing an episode of Your Lie in April. Much like Kosei and his friends, the music has taken on a life of its own for me that has far outlived the airing of the final episode in March of 2015.
Music had always been a fundamental part of how I engaged with media. From my days of playing Smash Mouth on a boom box my parents had (to their later regret) given me on my third birthday to my days of listening to Three Days Grace on my iPod in between classes in middle school, it has always played a role in my daily life. But Your Lie in April was important because it clarified for me what had always been true but unspoken. Smash Mouth's greatest hits CD is still special to me to this day not because it is a classic of 90s rock (although make no mistake, it is); it's special to me because it has come to represent a critical time in my life. Your Lie in April's music likewise has come to symbolize for me that moment where I came to understand my relationship with music for the first time. It also helped me develop the words to express this relationship.
Food Wars!
Written by: Stanlick

This discussion on Food Wars! is quite timely, as the final episode of its current season (and the final episode of the characters' first year at their culinary academy) aired one week ago.
For as long as I can remember, I've been a fan of food and cooking. My go-to channel on TV (if I wasn't watching anime or cartoons) was the Food Network, so when the Food Wars! anime was first announced, I was intrigued. I immediately became a fan of the show after the first episode aired. The way they depicted the Gotcha-Pork dish was so crisp and detailed, but the preparation process was what blew me away. Watching Souma (the main character of the show) manipulate the food and defend his father's restaurant was no different from watching an armed knight defending their castle. Each movement of Souma's knife had a purpose and every video cut showcased one of his many culinary skills.
As the show progressed, I was not disappointed. The writers continually demonstrated their knowledge of food, and the animators' prowess to make drawn food look delicious could not be beat. The plot was akin to your standard Shounen series – where one lad declares he'll be the best and will defeat all those in front of him – but Souma was never overpowered and saw a laundry list of defeats along his journey. For my tastes, this was the perfect set of ingredients.
I decided to do what any logical AniTAY author would do with an anime they adored and write an article. The easy answer was to make some of the dishes in real life and write out my take on the recipe. I thought a simple list was a bit too cliché, and since the manga already included the bare recipes inside the cover, I needed to add something of my own. In the exclaimed words of Emeril Lagassé, I had to somehow "kick it up a notch." That's when it dawned on me to try to recreate Souma's movements on a 1 to 1 scale. My roommates at the time and I put together just that, and I've linked the first "Food Wars! in Real Life" article below.
This is by far the most popular internet thing I've ever put together (and will likely forever be).
Even to this day people are still leaving comments on it, and even successful YouTubers and bloggers reference it in their own videos and articles.
My love for food and the success of these articles are the reason this show has stuck with me over the years.

Death Parade 
Written by: Protonstorm
"It's not just black and white." This is the sort of phrase I've heard in probably hundreds of reviews and online comments when discussing media. It's the sort of buzzword that feels like it has lost all meaning at this point, but a genuine exploration of moral grayness is always a pleasure. I think the interest in grayness comes from the feeling that we are always being told that everything operates on a binary; this is good and this is bad, this is legal and this is illegal. Or perhaps like one of the terrible college essay prompts I was given in high school: "Pick either green or blue and argue which one is better." Just about everyone will agree that real life doesn't work like this, and so for many of us it's exciting when media openly acknowledges the alternative options or the nooks and crannies in between black and white. Death Parade was one of the first pieces of media that truly made me think long and hard about this subject.
*Partial spoilers for the first episode of Death Parade (it's impossible to talk about thematically otherwise) *
The premise of Death Parade is simple and provoking: two recently deceased people with no memories enter a bar and are told that they must play a game where the loser will be killed. While they play the game and their memories slowly return, the bartenders observe them and pass judgement over whether they should be sent to "hell" (tossing their souls away) or "heaven" (reincarnation). The judges themselves are not humans and are supposed to serve as impartial arbiters of people's souls.
Death Parade is an easy series to get into from the first episode thanks to the dramatic irony inherent in the judgement system. While the arbitrators (and later the viewers) know the true nature of the game, guests don't understand what has happened to them and believe the results of the game will determine if they live or die. This alone makes for fun viewing, and Death Parade would still be entertaining if it was just a series of vignettes about sorting the good people from the bad. Thankfully, it goes much further than that. As the series progresses, it becomes clearer and clearer that the process of arbitration is not nearly as impartial as it is supposed to be. The primary arbitrator, Decim, makes mistakes in his rulings. Sometimes his evaluations are based on surface-level interactions and he misses the bigger picture. Even though he has complete knowledge of each participant's life leading up to their death, sometimes just the observation of events isn't enough to understand the true context of human decision-making. Even more importantly, the binary decision of heaven or hell is difficult to impose on the far more complex lifespan of human beings. It's not possible to make an objective calculation, and the rules don't allow for any middle ground. By the end of the show, it's clear that the entire system is flawed.
Death Parade is not the first show to encourage viewers to rethink their understanding of human nature, but it is one of the more ruthless and effective at doing so. I was drawn in by the surface level entertainment value, but by the end of its run, Death Parade had me ruminating on humanity in a way that I hadn't been pushed to do by any of those silly college essay prompts.
Himouto! Umaru-chan
Written by: Stanlick
Himouto! Umaru-chan is a personal favourite of mine (if you couldn't tell by my avatar). It has always been a contentious anime, and I fully acknowledge that many people don't hold it in high regard, but for me it's a guilty pleasure. I, and many other enjoyers of the show, see myself in the main character, Umaru, and that's why the show has stuck with me over the years.
Umaru is a two-faced character who appears to be a perfect being to her classmates and to the public, but she transforms into a gluttonous munchkin when she's alone. She's popular and gets good grades in school and is well liked by all her peers. She has the mannerisms of a goddess and is looked at as high class even by those who don't know her. The moment she arrives home, however, she lazes around playing video games and reading manga while drinking liters of cola and eating mountains of chips.
I may not be regarded exactly like Umaru by peers and in public, and my gluttonous tendencies are slightly different, but everything is similar enough for me to relate to her. Frankly, I don't think it's interesting if I write down what my coworkers think of me or if I list what I do in my pastime, but the connection is there for me and for many others.
My Teenage Romantic Comedy SNAFU 2 
Written by: Protonstorm
I never had a rebellious phase in high school. I had a good home life and felt like my parents trusted me to make decisions on my own, so there was nothing to rebel against. But I did have something that I imagine a lot of people are familiar with: a point in time where I felt like I had figured a lot of things out. This idea that I could see things for how they really were, unlike so many of my classmates who were just content to fall into line and be ordinary. My Teenage Romantic Comedy SNAFU's high school-aged protagonist, Hikigaya "Hikki" Hachimon, similarly thinks he's gotten things all figured out. His classmates are content to play in a popularity contest, but he's above such obnoxious and fake relationships.
Although the first season of SNAFU (2013) sometimes offers rebuttals to the excesses of Hikki's thinking, for the most part the first season of the anime is just a mildly amusing romantic comedy where Hikki and Yukino go around helping classmates with their requests. Along the way, the show pokes fun at some of the inconsistencies and contradictions in the high school social hierarchy. It was in the second season, however, that SNAFU transitioned from a capable but relatively forgettable series to genuinely thought-provoking.
It's at this point that Hikki's behavior and unwillingness to be honest with the people near him begins to have actual consequences for those relationships. If he wants to have something genuine, he's going to need to make a serious effort to confront his hang ups and stop hiding from those closest to him. It's easy for people to hide behind a veneer of indifference or scorn. A bigger challenge is to attempt to understand others and engage with them on a meaningful level.
SNAFU's bitter and sharp-witted protagonist is what led to its breakout success in the anime fandom, but its true staying power comes from the way it dismantles Hikki's behavior and forces him to begin to come to terms with the true reason he acts the way he does. An anime rom-com that mocks anime rom-com tropes is a dime a dozen these days. One that actually goes deeper and examines meaningful human connection is regrettably a bit rarer.
(Here's a link to my mediocre 2015 review of the second season of the anime)
My Love Story!! 
Written by: Protonstorm
A relatively innocuous-seeming romantic comedy, My Love Story!! turned out to be a surprisingly competent series that offered if not a complete rebellion against then at least a mild critique of modern beauty standards and masculinity. Protagonist Takeo is an incredibly large and strong man, but his large size and big personality ironically work against him in the ladies department. Instead, all the girls flock to his more conventionally attractive friend, Sunakawa. This all changes when Takeo saves a girl named Yamato Rinko on a train and she falls in love with him.
It might seem overly simple, but Takeo's ability to honestly convey his feelings out loud was a huge part of what made My Love Story!! significant for me. I would hardly call the series a realistic depiction of teen romance (everyone is too nice and reasonable), but Takeo has an uncanny knack for putting things into words that younger me had difficulty expressing. A key example of this is his endearing tendency to exclaim loudly to the audience about how cute Yamato is or how great of a friend Sunakawa is.
Takeo being able to honestly express his emotions hits home because of the way I viewed my masculinity when I was younger. I always struggled to properly express my feelings, particularly in situations that called for using feminine-coded language. This manifested in many ways, such as me having difficulty describing things as cute because it felt like something boys shouldn't say. It wasn't that anyone ever told me that saying "cute" was for girls, but it was certainly something that I picked up from my surroundings. A particularly ridiculous example of this is when my family got a dog when I was in 5th grade. My sisters wanted to name it Ema, but I insisted that this was too cute and girly of a name (even though the dog was a girl). It seems absurd looking back, particularly because I know for a fact that I found plenty of things cute, even if I wasn't willing to say it.
By the time I watched My Love Story!!, I had already moved beyond this specific hang up, but I was particularly struck by how the hyper-masculine Takeo was still able to be honest with emotions that are typically coded as feminine. He felt like the sort of role model I needed in elementary school. I don't think that my first impressions article that I wrote for the show at the time captured these thoughts fully, but watching My Love Story!! helped me find the vocabulary to address the sort of gender hang ups that had bothered me in the past.
One Punch Man
Written by: Stanlick
One Punch Man has proven to be the golden standard for anime. It's unanimously well regarded and widely popular, which is a very rare feat for any show. It topped the charts for viewer count this decade (only Sword Art Online and Attack on Titan are in front of it), and it even captivated the interest of non-anime viewers (ranked in the top 50 best TV series on IMDB). The show has spawned countless memes and has been continually referenced. It is one of my favourites.
Not only is One Punch Man the highlight anime of 2015, it will go down as one of the greatest of the decade. Its fresh take on the superhero genre, its deadpan comedic style, and Saitama's portrayal are what make this anime amazing.
It's difficult for me to think of a unique reason for how One Punch Man affected me, but it's stuck with me nonetheless. I've shown it to all of my non-anime friends and it's my go-to introductory anime show for anyone new to the medium. Saitama is bald, and so am I, so it feels good to have some representation in a primarily rainbow hair-populated artform. And Saitama is also a motivational icon for me to do things for the fun of it.
There's no better way to say it than how Koda began his review back in 2015: "Watch One Punch Man."
Sound! Euphonium 
Written by: Protonstorm
In a recent episode of the podcast that we recorded (and regrettably lost the audio for, leaving it unpublished) in the aftermath of the Kyoto Animation arson, I spoke about how Kyoto Animation forced me to re-evaluate what I meant when I called something "entertaining." At some point in most high school English classes, teachers will write a mountain-shaped line on the board and tell us about the classic narrative structure of fiction: introduction, rising action, climax, and falling action. Talking about fiction with this terminology created an idea in my head that a good story is one where narrative tension builds up to an intense exploding point. In theory, the exploding point is where the coolest part of the story happens. This thought process is why I loved action-packed adventure series and mostly avoided slice of life anime in my very early days of anime consumption.
Even within the supposed pyramid of rising and falling action, there is much more room for abstraction of the word "action" than teenage me imagined. Before I watched anime, I mentally evaluated a show as "good" if I thought it had an exciting story that featured numerous moments of intense suspense, preferably with some fighting. It would be an exaggeration to say that Kyoto Animation and Sound! Euphonium single-handedly changed this conception. However, it is true that the studio's productions have consistently encouraged me to enjoy more than the nuts and bolts of the plot, and that among those productions, Sound! Euphonium has become one of my favorites.
Ostensibly about girls in a high school concert band group striving to reach nationals, Sound! Euphonium encourages viewers to take a step back and appreciate small, seemingly minor moments. The main story is engaging on its own, but it isn't the reason why the show sticks out in my mind so strongly to this day. That credit goes to the brilliant minds at Kyoto Animation for paying such close attention to detail in producing the series. Their elaborate and stunning illustrations bring their productions to life and give meaning to the otherwise unnoticeable, from a character's posture when riding a train to the lighting in the corner of a classroom. This attention to detail benefits the entire production, but there are also individual moments that didn't fit my previous mould for a plot climax that I still recall particularly vividly for this reason. For example, in a moving scene where protagonist Kumiko and her friend Reina have a heart to heart conversation, I couldn't help but be struck by the beauty of the background of the night sky from their mountaintop perch. The twinkling city lights in the distance seemed to echo the optimism of the characters in that moment.
Kyoto Animation's attention to detail in Sound! Euphonium led me to visit the city the anime takes place in, Uji, and climb the mountain that Kumiko and Reina climbed in that memorable scene. This was a couple of years ago, when I was still studying Japanese in university. Despite featuring numerous tourist attractions, including a UNESCO world heritage site and world-famous green tea, Uji was a surprisingly tranquil town that grew steadily quieter as I approached the mountain from Sound! Euphonium. Retracing a particularly memorable scene from the show was a weirdly relaxing moment for me. I had enjoyed watching Sound! Euphonium when it first aired, but in that instant, I realized that the individual moments and minute details were the real reasons why it had such staying power with me. Sound! Euphonium helped me realize that the journey in media is even more important than the destination.
---
In Closing: 2015 AniTAY (and me) in Retrospect
Written by: Protonstorm
2015 was the biggest year to date for AniTAY in both viewer numbers and number of articles written. It was the moment that the community transitioned from a collection of unrelated people writing about anime to a cohesive and coordinated group that worked collectively towards creating a space where people could feel comfortable taking deep dives into their favorite Japanese media. In 2015, if someone wanted to write an official AniTAY anime review for a new show, they had to register interest on a spreadsheet and negotiate with several other people interested in covering the same series. Everyone was trying to carve out their own niche; 2015 was the year Matt and I launched our manga/light novel side blog, Taykobon, and it also witnessed the growth of author Reikaze's personal review blog and AniTAY friend Grex's YouTube channel. It was at best mildly organized chaos, but it was also an incredibly vibrant and satisfying community to be a part of.
I loved the AniTAY of 2015, but I think that I'm prouder of the AniTAY of 2019. Some of the coolest projects of 2015 have long since faded away, but when I look at the work of authors writing in 2015 and then compare it to their work from this past year, it's a bit shocking how much everyone has improved. I'm no exception. Whether I am a capable writer now or not is in the eye of the beholder, but I can say with certainty that I have evolved substantially from my days of writing for AniTAY as a high schooler in 2015. The chaos has died down a bit over the years as we all grow older and get busier with life, but the creative energy remains strong. I'm looking forward to seeing everyone's future projects, and I'm hoping that I'll be able to channel my energy into future writing as well.
---
You're reading AniTAY, the anime-focused portion of Kotaku's community-run blog, Talk Amongst Yourselves. AniTAY is a non-professional blog whose writers love everything anime related. To join in on the fun, check out our website, visit our official subreddit, follow us on Twitter, or give us a like on our Facebook page.