Decade In Review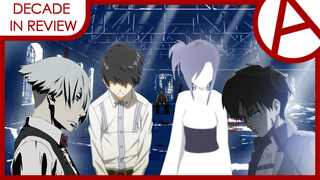 Decade In Review
AniTAY takes a retrospective on the decade with everything from our favourite moments to remembering how culture evolved.
The start of a new decade ostensibly means a new beginning, a place to reset and try again. It's a clean delineation between the "old" and the "new". In practice it's never so simple and 2010 was no exception. For my contribution to our retrospective, I'm taking a peek at where we were at the start of this decade, because it's been a wild ride from the lows of yesterday to the incredible highs of today.
A Brief Note On Decade In Review
Hey! You're reading a limited series from AniTAY we're calling the Decade In Review, combining general interest pieces like reviewing great OP and EDs from the decade with retrospectives on each individual year in the decade from different authors. Every couple of days you'll see a new year covered with a different focus, a different flavour, and a different author, slowly moving up to 2019. Hope you enjoy our series and have a Happy Holidays! Now back to 2010.
Where The Industry Was
This begs the question, where was the anime industry at the time? Well that's, of course, a story of two continents: North America and Asia.
In Asia (i.e. Japan), the anime industry was in what could be described as a crisis. Revenues from anime were down ostensibly due to the decline of television anime, a long-running downward trend from its highs in the late 90s, but likely hastened due to the state of the world at the time.
I best remember this downturn due to the news that Group TAC was closing its doors in late 2010. Group TAC was the studio originally behind the Space Battleship Yamato series, and Group TAC closed its doors following producer Atsumi Tashiro's passing.

In North America, we were still reeling from the aftermath of A.D. Vision's liquidation and subsequent splintering into a dozen successor companies. A.D. Vision had been a significant force in anime in the west since the 90s, so its end brought with it questions of who would fill that void. Rival Funimation, the other major distributor still around from the 90s, had a solid library of titles and had acquired many titles from defunct Geneon USA and A.D. Vision. However, Funimation at this time was owned by now-defunct Navarre Corporation, a media distribution conglomerate, and publicly Navarre was looking to sell the company.
Crunchyroll was still a fledgling company in the west, having only recently emerged from its early history as a fan-sub upload service in 2009. Notably Crunchyroll secured the DVD distribution rights to 5 Centimeters Per Second, the seminal work from Makoto Shinkai (Your Name).
At the time, streaming services were still young. Crunchyroll was still young, Hulu was still new, and Netflix was still years away from investing in any kind of anime. For the moment, it seemed the industry was hanging in the balance.
Where Anime Was
Despite all these setbacks, it's easy to go back and regard 2010 as respectable year of anime. Popular series K-ON! received a sequel, while newcomer Durarara!! also made waves. It was also the year of cult hit The World Only God Knows.
Working!! is a particularly bright spot in 2010, being a nice slice-of-life featuring a highly dysfunctional group of co-workers at a family restaurant. The source material ended up concluding in 2014 and later it received two sequel series of equal quality to the first. Not bad.
Meanwhile, P.A. Works released the highly anticipated Angel Beats!, created by Jun Maeda of renowned Visual Novel company Key. Following a group of teenagers in the afterlife, Angel Beats! seemed poised for greatness. While still well remembered to this day, it has left a complicated history due to its short runtime and other factors. Ask around AniTAY and you'll probably hear a few very different opinions.

2010 was also the year of the highly divisive adaptation of Highschool of the Dead. The series featured a chaotic mix of fanservice and gratuitous violence. The adaptation codified what it meant to make a series that was just one gigantic cliche, except with just enough edge to make it notable enough to be a popular series. It did feature the first theme song by Kisida Kyoudan and the Akeboshi Rockets, who would go on to headline GATE and other popular shows.
Star Driver was another, less offensive, divisive adaptation that year. Produced by BONES, Star Driver has a classic reformulation of the super-robot show. It's remembered to this day for various reasons, depending on if you actually liked it or not.
Hey did you remember that there's an anime featuring Stitch of Disney fame? Because that was a thing and its third sequel series was in 2010. I know, I'm confused too.
Oh there was also some show called OreImo.
We don't talk about that.
Closing
With everything that was happening it was hard to tell where the industry was going. Looking back from ten years on, it's much easier to see all this as the heroic beginning of a resurgence.
Crunchyroll today is a success story and a mainstay in the industry, providing worldwide streaming of anime and live-action dramas, a pretty dramatic shift from its early history. Funimation is now owned by Sony after a number of years as an independent company following Navarre's exit in 2011. Section23 is one of the primary successors to A.D. Vision's distribution business, and continues to be a major distributor in the industry.
The anime industry of today hardly resembles the one we had in 2010. We're now dominated by streaming services like Crunchyroll and Funimation, as well as seeing Netflix and Amazon occasionally pick large titles up. There's a great deal less emphasis on watching things on television or buying the DVD/Blu-ray. Even things like simuldubs (simultaneously releasing a dub to air at the same time as their Japanese counterpart) didn't exist in 2010. The idea of simul-anything was very limited.
2010 won't be remembered as the finest year of the 2010s in anime, but it can be remembered as the start of something new, even if we didn't know it at the time. It was one of the final years of the old world before streaming took hold, and one of the last years before everyone started enrolling in magical high schools.
Anime has come a long way, where have you come from since the start of the decade?
---
You're reading AniTAY, the anime-focused portion of Kotaku's community-run blog, Talk Amongst Yourselves. AniTAY is a non-professional blog whose writers love everything anime related. Click here to check us out.