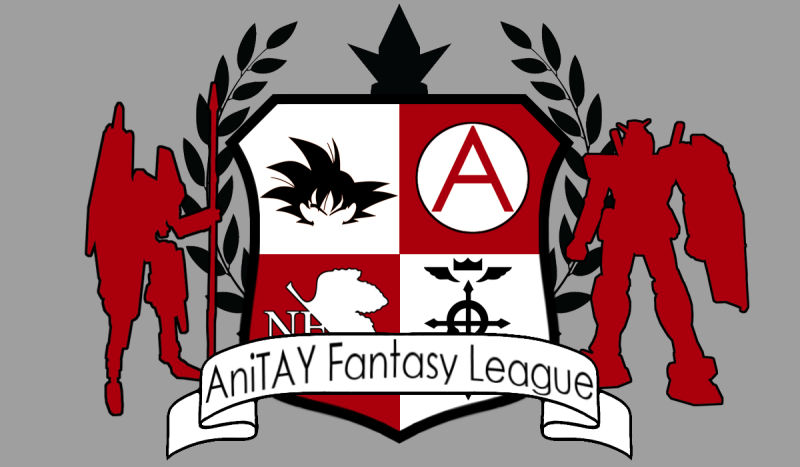 It is time. The Spring anime season has now come to a close. The time has come to see which of our correspondents had the most foresight, and which of our authors made the most blunders. We must separate the cream from the crop. Who reigns supreme!
My co-conspirator Maelwys (AKA Melvin) will come at you later with a number of fun graphs to gaze upon, but this is will only be the quick and dirty results. We had three different leagues this time so 3 winners and 3 losers who are then forced to watch an anime of the winners choosing. In the Winter, our winners foisted Dog and Scissors and Aria the Animation on our losers but will they be so lenient this time? Only time will tell and the comment sections!
(Enough talk. Get to the results you staller) Yes, yes I hear you. OK, League 1!
---
Yes, that is Stanlick in first place. Again? Yes, again. Though fellow Winter winner, Kinksy gave him a good fight, but ultimately the power of Big Order was too much for Kinks to overcome. And so Stan gets to pick another anime but this time it is Nan who must face the consequences. Dubious picks like Crane Game Girls and Ragnastrike Angels were called out during the draft, and we were ultimately proven right. Krakken, Nomadic Dec and Ryoma Nagare? Better luck next time friends.

---
League 2:
Darkfire you are now on notice.
---
League 3:
And so it was. Rock had a firm grip on this league from the very beginning, and he cements his first place standing at the end. The only question was who would be his victim. And while it was nip and tuck for a few weeks, it is our TAY friend, Quiddity who loses in the end. The power of Endride compelled you.
So that's it! Stanlick, I and Rockmandash are now beholden to force anime onto Nanttene, Darkfire and Quiddity. Bribery is very much allowed so that worse anime isn't forced onto you. Here is the full league standing if you are curious:
---
But a new season has begun, and the competitive spirit of our players has beckoned us once again. This time we have 7 players each but in 2 different leagues. And we have a few new players, so let the mayhem begin! So here's League 1:
The last row may be erased if something doesn't air, but if all goes as planned we will have a full schedule to battle over. Raitzeno has kindly decided to join the proceedings, but let's hope he has made his picks wisely. On to League 2!
Can Stanlick pull a three-peat? I wouldn't put it past him. And our very own admin and head wowcat, Dexomega has deigned himself worthy to join our prestigious ranks! But! Ever the contrarian, Dex decided to play with the rules of this league by picking only the worst shows. In order to deal with his shenanigans, the denizens of League 2 decided that an additional rule should be enforced: If Dex get's last, everyone but first must watch an anime of Dex's choosing. The first place person still gets to force Dex to watch something.
---
And the game has begun! Stanlick and Rock, let your victims know their punishment in the comment sections. And as a word of warning: Shade and Dec (our losers of Winter Fantasy) you must finish your punishment anime before the Fall draft or not be eligible to participate in Fall Fantasy. Anime is being released all this weekend, and will continue all this week, so keep a close eye on the things that are getting released, and we'll see you in a few weeks with some preliminary results! I hope you enjoyed this.