Decade In Review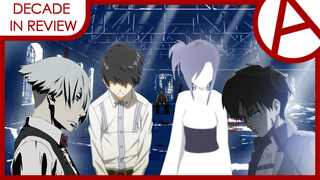 Decade In Review
AniTAY takes a retrospective on the decade with everything from our favourite moments to remembering how culture evolved.
There are thousands of anime openings and endings that came out in the last ten years, and now these lists tally 350 of the best. Thank you for joining me through this series. This finale and the preceding articles form a collection of songs which I truly enjoy. I hope you had as much fun remembering these as I have.
In no particular order, here we go.
---
Edit: In typical fashion, things have broken! 120 video links in one article is too much for many devices to handle. Oops! I've split the list up into the four following back-dated posts (since 30 video links seems to work fine). 
---
Thank you for reading! This was super fun. This list was comprised of the songs left on the short list of the other articles in this series, and some which you guys recommended.

Here are the previous articles in the series.
The memorable (my interpretation of the most highly regarded):
The hidden gems (songs from shows you didn't see):
The lighthearted (happy and fun songs):
The tranquil (slower, but powerful songs):
Shounen (from shounen series with 50+ episodes):
---
And of course, the Animasochists lists (great songs from not so great shows)
---
Join us!
You're reading AniTAY, the anime-focused portion of Kotaku's community-run blog, Talk Amongst Yourselves. AniTAY is a non-professional blog whose writers love everything anime related. To join in on the fun, check out our website, visit our official subreddit, or follow us on Twitter.