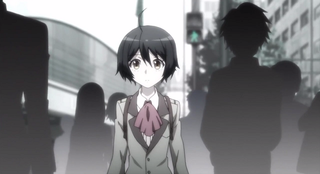 As you'll see in Storytime with Storm, I'm thinking about OP/EDs. What are your favorite ones from this season? I would say mine, but that would be spoilers...
Header from Ranpo Kitan: Game of Laplace.
Storytime with Storm
So I've been working slowly on the Summer Music article (I need to start releasing those things ON TIME so people still care when they come out, ha ha), and I've hit a problem: I can't find Himitsu wo Choudai ANYWHERE, and it's been out for over a week now. Awkward. So if any of you guys happen to secretly have access to it, give me a call. Other than that, I'm just waiting for Rising Rainbow to release this Wednesday, so I'm sure I'll get a hold of that in the next couple of days. In the spirit of music, here you go:
A Week of Ani-TAY

I've added a section here for a random drop from weeks past, just in case you want to randomly look at older articles for fun.
Kevin and I have decided to move the roundup of weekly articles to a separate place, check out the Ani-TAY Drop for this week (not updated yet).
Random Ani-TAY Week:
What Is Ani-TAY?
For those of you visiting for the first time (or not, I don't know) and wondering just what exactly you're looking at right now, here's a document explaining our blog and wonderful community:
Business Stuff
Want in on the Ani-TAY action? All you need to do is follow this tutorial and tag your article with Ani-TAY in addition to the other tags you see fit. Also remember that the Café has a selection of image assets for your Ani-TAY writing needs and spreadsheets for coordinating with your fellow Ani-TAY writers.
Among other things, the Ani-TAY Podcast may just randomly pull from authors to participate in the After-Hours segments.