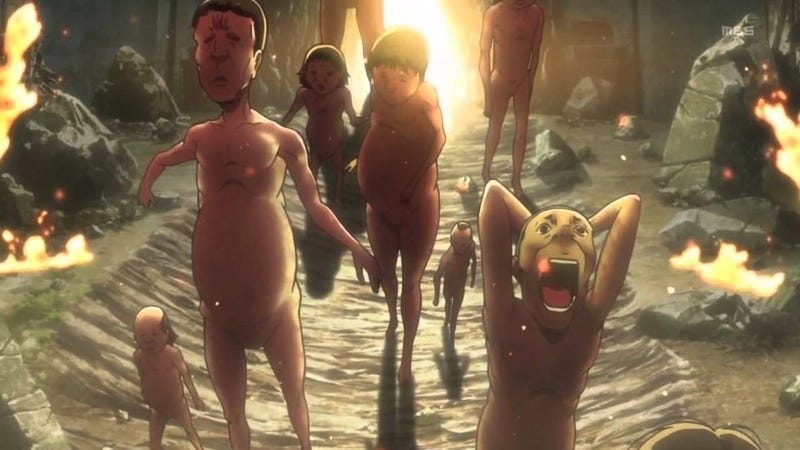 Last week's question got me thinking... what are some of the ugliest characters in anime?
As you can probably guess from my header image, I nominate the Titans from Attack on Titan. Damn, those things are ugly. It actually makes it slightly spooky because they are a bit grotesque, but even if the Titans were like super sweet and kind and loving and everyone kept them as pets and everything, I would still avoid them because their faces bother me.
Header from Attack on Titan, like I said earlier. Try to keep up.
Storytime with Storm
The last Café of the year! Next one, I think I'll probably do like some reflection kind of thing or something on 2015, so if you want to do a kind of 'mah best things of the year' kind of post but don't want to write a full article, hold off for the next Café and you shall be provided an opportunity, free of charge. Monetary charge, that is. It's always electrically charged in my forums.
Last Time On... ANITAY:
For those of you visiting for the first time (or not, I don't know) and wondering just what exactly you're looking at right now, here's a document explaining our blog and wonderful community:
Business Stuff
Want in on the Ani-TAY action? All you need to do is follow this tutorialand tag your article with Ani-TAY in addition to the other tags you see fit. Also remember that the Café has a selection of image assets for your Ani-TAY writing needs and spreadsheets for coordinating with your fellow Ani-TAY writers.
Among other things, the Ani-TAY Podcast may just randomly pull from authors to participate in different segments.