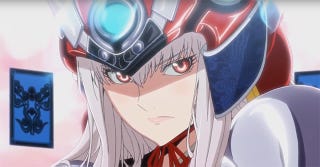 A reimagination of the "three Kingdoms" period in ancient china.
Based in the Chinese Comic made by Bai Mao, it has been announced that it will premier in October 6 this Chinese-Japanese work. Also a video has been released.
Anime News Network describes the history as follows:
"The comics are based on the classical Chinese novel The Romance of the Three Kingdoms, and are set in present-day China, where famous figures from history and the novel can be summoned using cards. The story centers on high school student Son Shin and historical figure Zhou Yu, who has been revived in the present day. The anime will include the themes The Romance of the Three Kingdoms, "battle," "school," and "card games."
Kobun Shizuno (Knights of Zidonia) is the overall director; while Odahiro Watanabe is the director and his debut in such role at studio Pierrot; Masaya Watanabe (Karas) is making the scripts.
Zhou Yu... Well other one got the "Arthur/Saber" treatment then... In any case, the time known as "The three Kingdoms period" is the one that occurs betwen the fall of the Han Dynasty and the Jin one, where three big groups: Wei, Shu and Wu foght for the control of the country. all of this in the years Ad 220-280.
Via: Anime News Network