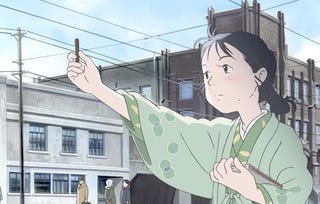 It will premier in November 12.
The official website for the upcoming film "In this corner of the world" has uploaded the first fullt railer where the cast and staff is revealed.
Anime News Network describes the history as follows:
"The film is based on Fumiyo Kono's To All The Corners Of The World(Kono Sekai no Katasumi ni) manga. The award-winning manga follows a bride named Suzu Urano as she moves to her new life in Kure City on the coast of Hiroshima Prefecture. Suzu perseveres through World War II with pluck and determination."
Sunao Katabuchi (Black Lagoon) is directing the film at Studio MAPPA while GENCO is producing it.
Via: Anime News Network