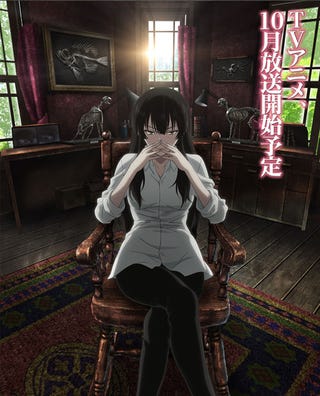 The Anime will premiere in October.
The Official Website has revealed the first Trailer of the Drama and Mistery Anime adaptation of the Light Novels.
As of right now the Cast Revealed so far is:
Shizuka Itou as Sakurako Kujyo
Junya Enoki as Shotaro Tatewaki
Ayaka Imamura as Yuriko Kogami
Masako Isobe as Housekeeper / Ume Sawa
Hiroki Takahashi as Hiroki Utsumi
Akira Ishida as Itsuki Isozaki
Tetsuya Kakihara as Haruto Imai
Anime news Network describes the Story as follows:
The novel series revolves around Shotaro Tatewaki and Sakurako Kujyo. Shotaro is a normal high school student with a serious demeanor. Sakurako is an extraordinarily beautiful woman in her mid-20s from a rich family who loves "beautiful bones." The two live in the city of Asahikawa in Hokkaido, and they get involved in various incidents regarding bones.