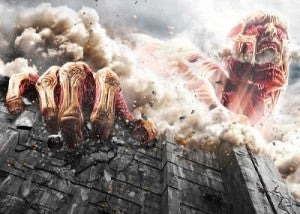 Following the widely-covered and well-received world premiere of Part 1 of the Japanese live-action feature film "Attack on Titan" last month in Los Angeles, Funimation announced that the theatrical dates for the epic two-part movie. "Attack on Titan" will be a limited theatrical event and will screen in both the U.S. and Canada. Unlike most multi-part films that average up to a year between installments, moviegoers will wait just 3 weeks between Part 1 & 2. "Attack on Titan" Part 1 hits theaters beginning September 30 with Part 2 arriving in theaters beginning October 20 in the U.S. and Canada, respectively.

As part of the announcement, FUNimation's theatrical trailer for the movies has been released on the official movie website. Tickets for both movies will be limited and will be available for advance purchase on the website later this month.
They're promoting these films really seriously. Not sure if I want to go watch them, though. I like the look of the titans, but because it's live-action, all the humans just look so generic. I guess that's jus what happens with live-action media.