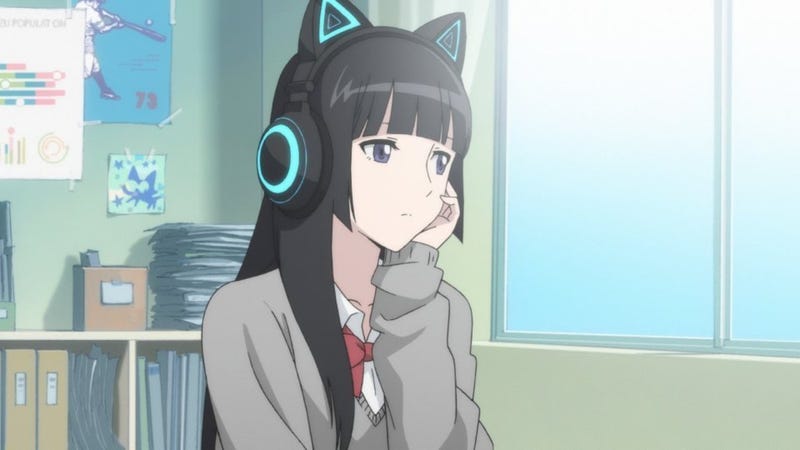 Yesterday, the much anticipated announcement trailer for Production I.G.'s follow up to the 2000-2001 hit series FLCL dropped at Anime Expo. The high profile anime gained a considerable amount of traction earlier this year due to the news that Adult Swim (the late night blocks on the cable television channel Cartoon Network) would be playing a part in creating and airing the cult classic.
Not long after the Internet exploded with reactions and hype, a tweet went out calling attention to a detail in the trailer. A shot of what is presumed to be the protagonist of FLCL 2 is shown in a classroom setting, wearing a pair of cat-eared headphones. What could easily be passed as a small character design choice (after all, there have been far odder design choices in anime accessories for students) was challenged entirely by an individual claiming to have had designed the headphones and was not contacted or asked for permission to use the accessory for a character. The below tweet by Twitter user @Yuumei_Art shows the character in question and the claim.
While I'm busy at AX, I find out that the new FLCL by Adult Swim decided to rip off my headphones design without asking or crediting :( pic.twitter.com/a3HO31uY2e

— Wenqing Yan (@Yuumei_Art) July 3, 2017
This has sparked early morning controversy within Twitter's anime community, with some viewers already calling for a mass boycott of the series due to what they call an unlawful profiting off of a designer's idea.
This is not the first time the design of the headphones was called into question, however. Back in September, pop star Ariana Grande and company Brookstone collaborated for the release and sale of wireless Bluetooth headphones featuring cat ear designs on them. Things took a twist when, not unlike the current situation, a tweet blasted a Buzzfeed article highlighting the design and praising Ariana Grande.
An outside view looking in could either chalk this up as one odd coincidence, or jump on board with the masses rioting. Further investigation, however, seems to call more factors into question. As the updates on Yuumei's IndieGoGo chronicle, the inventor worked with Brookstone and signed over the rights for production of the product due to hitting walls in production costs and manufacturing the headphones. This is further explained in the (since deleted) unofficial company responses via Twitter in the comments section of the September Yuumei tweet archived:
So, based from the September incident, people are torn over the legality of an inventor's crowdfunded headphones being marketed elsewhere. Without actual legal documents being available to the public, and the tweets by Brookstone since being deleted due to massive backlash, there is no evidence proving one way or the other. Seeing as the trailer just aired yesterday and the challenge was thrown down this very morning (3 Jul 17), there have been no official statements made by Brookstone, Production I.G., or Cartoon Network related to the inventor's claim. Many backers of the Twitter account have since retweeted and given their takes on what they have believed to be a one-sided attack.
The important part of all this, however, is that there has been a calling for boycott of FLCL 2 when it releases due to this controversy. It is understood that all of the information above is gathered through unofficial channels and bystander accounts, but without solid understanding of the material and history of the headphones, it cannot be deemed incredibly fair to outright boycott an anime that many talent individuals have worked hard on. If those boycotting the series have seen all of the background and want to follow through, that is absolutely their right. It is critical in a time of hot takes and ideologies formed from retweets to take in all of the related material before taking action. That being said, if anyone related to the topic wishes to have a statement documented, I would be more than willing to update this article with the information.
Above all else, I hope everyone enjoyed AX and has a happy 4th of July holiday.