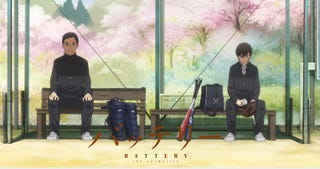 The Official website for the Anime adaptation of Atsu Asano´s novels, has been streamed.
Tomomi Mochizuki (Pupa) is both directing the manga and doing the scripts at Zero-G; Takako Shimura (Wandering Son) is in charge of the original creator design.
Anime News Nework describes the storya s follows:
"Asano's novels revolve around Takumi Harada, a young man who moves to a mountain town in Okayama prefecture during the spring break before he enters middle school due to his father's job transfer. Takumi is a pitcher, and after he moves he loses faith in his own talent, when suddenly his classmate Kō Nagakura appears in front of him. Kō has a strong desire to form a "battery" (a combination of a pitcher and catcher) with Takumi."
The series will premier on July 14.
Via: Anime News Network