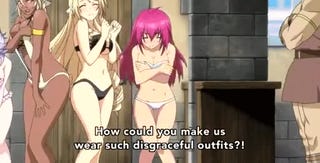 Yes this is going to be NSFW.
Bikini Warriors, an Anime were 4 beautiful Girls will face the Demon King in a Clasic Medieval Setting. The only thing is that the 4 of those girls like to use Bikinis!
With that silly premise is launched Bikini Warriors, an Anime based on the popular figurines made by Hobby Japan.
We will get to know our four Heroines: Fighter, Mage, Paladin and Dark Elf. Everyone of them are members of the team who has the holy mission on destroying the Demon King!
Sounds like Dragon Quest- Esque, right? Heck even the logo is somewhat similar! And this Anime is not afraid on bringing everything that a Classic JRPG have and making it it´s own Sexy twist!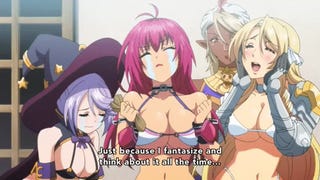 We have things like the first thing that it comes to mind. ¿Wouldn´t be dangerous to use a Bikini instead of an Armor?. And in a normal world that would be true, but in here they tackled it saying that it is an Armor, heck the first chapter is about that! Since it´s an armor and not a bikini, and it doesn´t matter if its show a lot of skin, they will get protected :P
Other classic things of the JRPG that takes are the classic "Helps" of the Kings and people alike… You know, when they gave you their "Funds" in order to help you, but their quantity is truly low, even though the dude is a king in a big and beautiful palace and their knights have full and siny armor, and even the King has a super ultra powerful legendary weapons around there!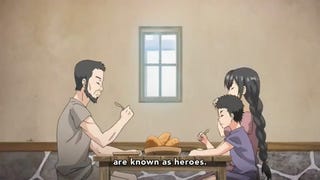 Other it´s the "Link Attitude" ergo, enter on the Houses and taking it all! It´s funny the way they explain this, since this is for a Royal demand that the townsfolk must give their things to the Hero if they need it…Ergo they can abrupt into a house and take whatever they want!
Other Classic (Three paragraphs in a row that start with "Other" :P) is, and this one have happened to me when I play a JRPG, is when there is in a store a super expensive and powerful weapon but you have no Money, so you just sell a lot of your stuff, including potions that you "Don´t need", you buy the weapon… Only to realize that the same weapon was at the next dungeon in a Treasure Chest…
And finally the Side-Quest were the people promised something awesome, and you do a rather difficult Quest and the Prize is by the end truly not worth it!
All of this situations are actually funny since Fighter and the other girls have common sense! And they even think that some of this things aren´t actually fair, fro them or the townspeople. But still they will do it, or will do to them.
To This one you just add the funny personalities of the girls! We have the Fighter, who is a noble warrior with her feet right on the ground, she is not perverted but for some reason when the things get "Sexy" she doesn´t do much; The Mage a Pure and innocent girl, that is very popular on the fanbase, so much that in the anime they acknowledge that when her armor is expensiver than the other girls; The Dark Elf, an experienced girl and quite mature; and lastly the Paladin, Pure on the outside and a pervert on the inside…So much that her fantasy is that either her or someone else make money using her body to pleasure other people –I´m sure she means Dancing and acting.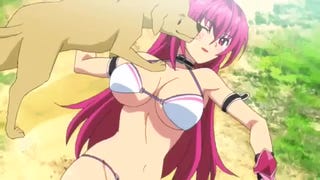 (If You wanna know what will happen next...Watch the Series :P)
Add to that the Ecchi parts- ergo "Interesting" camera Angles or straight up Groping, and you have a weird anime that while some people could come and see them for the Bo0bs, if you are a JRPG Fantasy Lover, you will get to appreciated it a little more and even get some more laughs than Boners in the series.
Oh Also every chapter is like 5 or so minutes long, so you can watch it with ease in someway :P