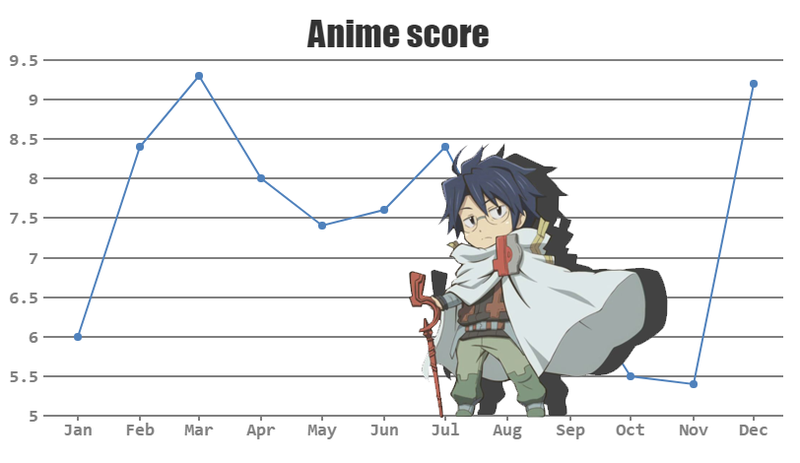 Update (19/11/17): Yet another week and another update. There are still some shows which steadily losing their score, but overall everything seems to set on the level it will keep until the end of the series - where the rest of the fans (like myself) will come and rate the shows after final episode is out. One small note - I'll be on my holidays for three weeks now, but the system I have in place, will still record the score so you should expect three weeks update in one around 10th of December.
Update (12/11/17): Week six is upon us and the fans of Black Clover took over the second chart, where it did not positively reflected on the first one and it's still losing votes, and I'm not surprised. What I'm really glad is that except of one - every my favourite shows are so far over the 8 score point - 3-gatsu no Lion 2nd season, Ballroom e Youkoso, Mahoutsukai no Yome and Shokugeki no Souma: San no Sara. Shame Youkai Apartment no Yuuga na NIchijou is so underrated, but I guess it makes sense based on what the show is about, or maybe I just simply like it and give it too much credit, but I cannot help it.
Update (29/10/17): I personally don't watch Dies Irae as I have heard it's not good and as you can see it's the only show which steadily goes down with the score. The other interesting show is Shout Show (a.k.a. Black Clover) - clearly it has big fan base as it's closing the difference in number of votes with Fate/Apocrypha which is airing already for the second season.
Update (25/10/17): Finally I have got to update this article with the latest Sunday's scores. After the initial drop from week one to week two (where some shows had there only expectation scores as those were not released yet in the first week), score stabilized itself and now we can truly watch, what progression will be following next weeks.
Last season I did an experiment, where I took some currently airing shows and put them on a charts week to week, based on the number of votes and the score given to them on MyAnimeList.net. I felt like the it had found it's audience and decided to give it a go once again this fall season.
First data were taken on 8th of October and from there I will be taking data every day during the night from Saturday to Sunday and will keep updating this post.
Feel free to comment on if you like those stats and what shows you want to follow score development in the next season of Winter 2018.

Note: If you are on phone or the chart is not displaying correctly, please try this link.
---
You're reading AniTAY, the anime-focused portion of Kotaku's community-run blog, Talk Amongst Yourselves. AniTAY is a non-professional blog whose writers love everything anime related. Clickhere to check us out. This article was brought to you by Stinolez - gamer, anime lover & so-called writer. Check my other stuff here or follow me on Twitter.