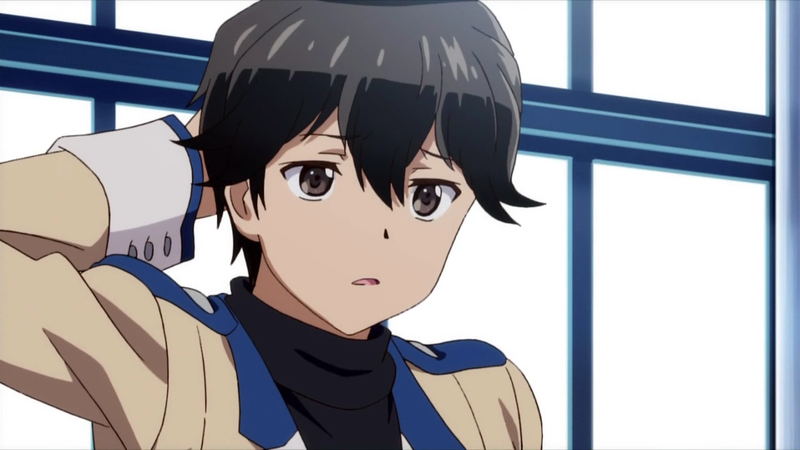 Touka Takei is a writer. His new anime, If Her Flag Breaks releases today in the U.S. Before that, he was a writer of erotic games, or eroge for short. Touka shared his thoughts on his work with us, and answered some of your questions.

Steve Bowling, Ani-TAY: When you learned that If Her Flag Breaks was going to get an anime adaptation, how did you react?
Touka Takei, Author: This opportunity to have my, Touka Takei's, work reach even more people has really touched me deep inside. Not literally touched me, though. Just to be clear.
Bowling: What was it like to go through getting one of your works adapted?
Takei: I think of this every time that more people become involved with a project: creating a product requires many tough jobs to be done, but I hope that ultimately, after all the bad and good times alike, the product is something that the staff can feel happy about. I remember feeling very content seeing the staff's happiness that came through the product as it was being completed.
Bowling: How did you come up with the idea for If Her Flag Breaks?
Takei: Breaking the flags that pop up on top of people's heads was an idea I came up with spontaneously, so there's no real explanation for it. I do get asked this question quite often, but I don't have any other way to answer it than to say that it was a spur of the moment idea. I'm sorry.
The concept relating to the fantasy and mysterious settings came from my secret notes that I've accumulated over the course of the past ten years. I pulled some ideas from there, and changed them up to suit the story.

Bowling: Who is your favorite character in If Her Flag Breaks?

Takei: I like all of them, but Akane is the easiest to depict. I think I like Megumu in the sense that he's the most mascot-like. The original series is now in its second season, and Ruri is my current favorite.
Bowling: Do you find you enjoy creating eroge or light novels more?
Takei: A game is created by a team of people, so in that sense, making games provides a more fun environment to be in.

The process of writing a light novel can be very isolating, but the new releases happen considerably more often than games, so I like how frequently I get to hear the readers' comments and responses.

The amount of challenge and fun that come with the work are the same. *laughs*

Bowling: Who is your favorite eroge writer?
Takei: Mr. Jun Maeda, Mr. Tatsuya Takahashi, and Mr. Masato Hiruta.
They are my biggest influences.

I still remember the excitement I felt when I first played their games.

Bowling: Do you think you'll ever return to writing eroge?
Takei: Not currently. I enjoy making games, but unfortunately, they're not selling too well these days.
Bowling: Have you ever considered writing full-length novels?
Takei: I like mystery, so I hope to write one someday. Pure literature is something I'd want to challenge myself with, if I ever get an offer to.
I had never written a romantic comedy until I was asked to, but it's become one of my best fields. I never know what other abilities I may have within me!
Bowling: Did you prefer writing the light novel, or the anime adaptation of If Her Flag Breaks?
Takei: I enjoyed both, but seeing my writing become an animation was an experience I've never had before, so that was very special. Writing a light novel has certainly become something of the norm, so it's more like breathing and eating to me.
Bowling: Did you enjoy the anime adaptation of your work?

Takei: It was absolutely the best!! I'm almost certain that out of anyone on Earth, I was the one who enjoyed it the most. An invader from space could come and prove me wrong, though.
Bowling: Which part of the plot came to you first, the RPG-class harem members, or the computer-sim part?
Takei: It was the characters. My editor says this all the time too, but there isn't a light novel without the characters first. Because there are great characters, the fun story can shine.
Lastly, it's such an honor to have my words reach America. Every time I announce a new title, I always say that my goal is a theatrical release in Hollywood. I feel like I'm one step closer.

That being said, to make sure people don't think I'm serious, I'll make a note here that I'm half-joking about this. Wait, so, am I half serious...!?

---
I'd like to thank Mr. Takei for taking the time to talk with us. If you'd like to check out If Her Flag Breaks, you can find it streaming on Crunchyroll, or if you'd like to purchase it, you can pick it up at NIS America's online store.
You're reading Ani-TAY, the anime-focused portion of Kotaku's community-run blog, Talk Amongst Yourselves. Ani-TAY is a non-professional blog whose writers love everything anime related. Click here to check us out.